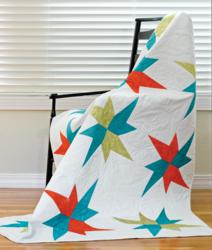 The collection includes shapes that appeal to a wide variety of quilters and fabric crafters, from traditional to modern
Omaha, NE (PRWEB) May 15, 2013
AccuQuilt is excited to roll out the new "Favorites Mix" Die Collection featuring 11 new dies for the GO!® and GO! Baby® Fabric Cutters. The official launch will be at the International Spring Quilt Market in Portland, Oregon with dies available May 13 in stores and online at http://www.accuquilt.com. This new line includes favorite basic shapes that are essential building blocks to creating popular quilts as well as contemporary new appliqué shapes.
"All of us at AccuQuilt are excited about this release because the collection includes shapes that appeal to a wide variety of quilters and fabric crafters, from traditional to modern," said Lynn Gibney, AccuQuilt Director of Marketing. "It's our mission to develop products that help all quilters have an exceptional quilting experience cutting fabric quickly and accurately with shapes that best optimize the use of their fabric."
The multi-size Strip Cutter lets quilters cut perfect strips from smaller fabric sizes and scraps, which means less fabric waste. The Half Rectangle Triangle, two new Triangles in Square sizes and two new Rectangles all coordinate with existing 6", 8", 9" and 12" die designs. Multiple sized circles create fast and easy penny rugs, coasters or flower centers.
Also included in the mix are new appliqué dies. The popular Cute Car, Queen of Hearts, and Cat & Bat dies are perfect for creating fun holiday and children's quilts.
As a special addition, AccuQuilt has included the historical Harrison Rose design by Eleanor Burns. Harrison Rose is a large stylized rose pattern identified in "Quilts: Their Story and How to Make Them" by Marie D. Webster. The Harrison Rose block is also included in "Tales of the First Ladies and Their Quilt Blocks" by Eleanor Burns.
Each die has an exclusive pattern available. Find the patterns for the two 6" x 6" dies on http://www.accuquilt.com. All dies in this collection feature Two Tone™ Foam except for GO! Strip Cutter-1", 1 ½", 2". With a GO!® Die Adapter, Favorites Mix dies also can be used in the commercial AccuQuilt Studio™ Fabric Cutter.
AccuQuilt GO! fabric cutters, dies and accessories are available at local quilt and fabric retailers. Quilters also can purchase GO!® and Studio™ fabric cutting systems by visiting http://www.accuquilt.com or calling 888.258.7913.
About AccuQuilt – Better Cuts Make Better Quilts®
Headquartered in Omaha, Neb., AccuQuilt offers quilters, fabric crafters and retailers a premiere line of fabric cutters, dies, quilting patterns and other quilt and fabric cutting solutions that help quilters quickly and accurately cut shapes for quilting and fabric crafts. AccuQuilt also offers quilters a wide variety of rich educational resources to enhance their quilting experiences. Cutting with AccuQuilt cutters is a natural evolution of fabric cutting methods. "First scissors…then rotary…finally…AccuQuilt®" for fast, easy, accurate fabric cutting. Visit http://www.accuquilt.com for more information.