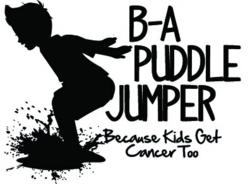 We encourage you to Be A Puddle Jumper too!
Escondido, Ca (PRWEB) May 15, 2013
Escondido, Ca. May 14th, 2013 – Be Your Own You has recently teamed up with Mommy Bloggers around the world to help raise awareness and money for Childhood Cancer research. Earlier this week, BYOU launched a campaign in partnership with The Ty Foundation, which honors their son Ty Louis Campbell who fell to cancer at the age of 5.
Mommy Bloggers from near and far have used their voice and blogged about this particular issue in hopes to bring more awareness and raise money for research. Cancer is the number one disease-related death in children, which hits very close to home. Blogging sites such as http://www.GeniusMoms.com and http://www.MacaroniKid.com, just to name a few, allow for moms all around the world a chance to speak up and be heard. BYOU's joint campaign with The Ty Foundation has sparked up the blogging websites with one common goal in mind; to bring awareness to Childhood Cancer Research through the Be A Puddle Jumper Fundraising Program.
Jumping in muddy puddles was the one thing Ty Campbell wanted to do most when his cancer was cured. At the age of 5, he lost his battle to pediatric brain cancer. In celebration of his life and the childhood he yearned for, thousands of parents began posting photographs of times when they allowed their kids to enjoy messy, carefree fun in Ty's honor. B-A Puddle Jumper's fundraising efforts continue to raise money and awareness to Childhood Cancers and with the help of the BYOU Brand and Mommy Bloggers around the Country, we can continue to bring that awareness to the forefront.
About Ty Louis Campbell Foundation:
The Ty Louis Campbell Foundation is a nonprofit organization, certified 501(c)(3), that funds innovative research and clinical trials specifically geared toward the treatment of the deadliest childhood cancers (including brain and spinal cord tumors). Our organization seeks less toxic, more effective treatments that are specifically designed for children fighting cancer. Our ultimate mission is to help fund the intelligence and technology that will uncover new ways to cure children with cancer.
About BYOU - Be Your Own You:
Be Your Own You is a lifestyle brand that empowers women and children through positive messaging, apparel and accessories, educational programs and an editorial magazine. BYOU was formed in partnership with Children's Edutainment Network and teen celebrity Cymphonique Miller. Today, BYOU is building a brand that will touch the lives of girls and women worldwide. For more information, and to check out the online store visit, http://www.BeYourOwnYou.org
###