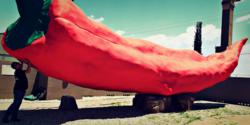 Now I see the secret of the making of the best persons, It is to grow in the open air and to eat and sleep with the earth. - Walt Whitman
(PRWEB) May 14, 2013
Most people are comfortable staying put in their place where roots dig down deep. The reason that Sash and Highway packed their gear from eBikerLeather, and hit the road is because they both were running away from their real selves. Trying to be people that they have never meant to be, soccer mom or homemakers. Instead of running away from their selves Sash and Highway decided to find themselves on the journey called Road Pickle.
The commitment by Sash and Highway is six months long trip, starting at their loved home of San Diego, Ca. After the six months long period Sash has said, "We will either keep on finding each other or run home to San Diego." The idea of living at cheap motels, friends homes, wearing the same underwear might not be the best suitable place on the road for Sash and Highway.
Right now Tina and Sash are located in Las Cruces, NM and have ready a special treat with best food and beer in town. In Las Cruces, Sash and Highway got to see a lot of café and bars but were not expecting to see the world's largest Chile pepper. Another cool fact found on Road Pickle posted by Sash is, "Old Town Mesilla was once capital of the Arizona Territory, and was where Billy the Kid was sentenced to death. Many of the original adobe structures still stand. Today, it's filled with shops, museums, and restaurants."
The whole trip is not planned, or mapped out. Sash and Highway are asking your help to show them interesting places by posting a comment on RoadPickle.com where they should travel next. The opinions from people will be reviewed and the next destination will be unveiled by either Sash or Highway.
Looking for ways to follow Sash and Highway on their Road Pickle trip? Check out the Route Map with full details on where they are located now. Not only that but I strongly suggest following RoadPickle.com for the latest updates on their trip.
eBikerLeather is proud to sponsor the trip for Sash and Highway along with Escondido Cycle Center. Both companies are in contact with Sash and Highway on daily basis to support them with the latest needs on the road.