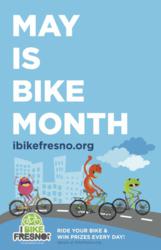 ...gut-wrenching, nail-biting, chain-smoke-inducing showdowns ever to invade the Central Valley
Fresno, CA (PRWEB) May 20, 2013
It's May which means it's Bike Month! If you haven't had a chance, there's still time to bust out those dusty bikes and helmets.
Windsong Production's and BLARE Media are going to have a little cross-company challenge in the office with Windsong Productions challenging BLARE Media to see who can log the most pledged miles for the 4th Annual Million Mile Challenge. They may share a building, but they'll never share their miles!
*insert battle prep montage*
This is all part of the I Bike Fresno campaign which aims to get Fresno riding their bikes more today than they did yesterday. I Bike Fresno is run out of Windsong Productions as the brainchild of their creative director, Byron Watkins. The Million Mile Challenge takes place over 31 days in May and comes with daily prize giveaways and special events such as the upcoming Kaiser Permanente Bike 2 Work Day Corporate Challenge, Bike to the Grizzlies Game and Park to Park Ride.
It's day 14 of the challenge and participants have already logged in: 106,564 miles!
All of this stems from the Bike Happy Foundation who's biggest goals include educating, encouraging and promoting biking as a healthy and environmentally-happy form of transport.
For more information, make sure to check out ibikefresno.org or facebook.com/ibikefresno.
If anything, stay tuned to witness "The Battle of 7676 N Palm Avenue, Suite 104″ go down as one of the most gut-wrenching, nail-biting, chain-smoke-inducing showdowns ever to invade the Central Valley.