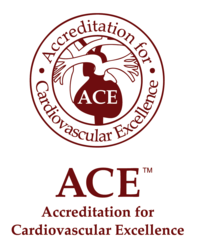 ACE's external peer review process results in positive change. We're encouraged by the shift toward improved physician collaboration and patient care that is driven by external peer review.
Bonnie H. Weiner, MD, ACE Board Chair and CMO
Orlando, FL (PRWEB) May 16, 2013
Data showing improved quality results for cardiac cath labs that apply for accreditation through the Accreditation for Cardiovascular Excellence (ACE) were presented during the SCAI Scientific Sessions in Orlando, FL, May 8-10, 2013. The study is the first of its kind to validate the results of the accreditation process. "The important take-away from this study is that documentation has now been substantially improved in accredited cath labs," said Bonnie H. Weiner, MD, FSCAI, ACE Board Chair and CMO. "Clinical documentation in ACE accredited cath labs confirms that patients who get a stent or angioplasty meet high-risk criteria. Improvements in documentation, like all elements of accreditation, are a key indicator of dedication to quality improvement and will result in more accurate reporting and improved patient care over time."
The breakfast symposium ACE External Reviews and Accreditation: Keep Your Cath Lab Out of the Crosshairs discussed the ensemble of ACE services, accreditation and E3: More than Peer Review. David H.W. Wohns, MD, FACC, FSCAI, delivered details on the ACE accreditation process from his professional experience as Director of Interventional Cardiology and Cardiac Cath Labs at Frederik Meijer Heart & Vascular Institute, Grand Rapids, MI, and Dr. Weiner discussed the importance of external peer review in the cardiac cath lab. Noting that external review is another tool for achieving quality documentation, Dr. Weiner emphasized the consistent and unbiased peer review process provided by ACE's cardiology clinicians. "ACE's external peer review process results in positive change," said Dr. Weiner. "We're encouraged by the shift toward improved physician collaboration and patient care that is driven by external peer review."
ACE is the only provider of accreditation for the cardiac cath lab and an ACE certification means that the highest quality standards for cardiovascular are met. "This is a call to action," said Mary Heisler, RN, BA, ACE Executive Director. "Accountable metrics that affect all hospital stakeholders are here. It's time to get started on your quality journey in the cardiac cath lab with ACE Accreditation." Call for a free 1 hour consultation, (202) 657-6859.
About Accreditation for Cardiovascular Excellence
ACE, an independent organization sponsored by the Society for Cardiovascular Angiography and Interventions (SCAI) and the American College of Cardiology Foundation (ACCF), offers independent evaluation and monitoring of facilities that provide cardiovascular care. By reviewing facility and operator performance and comparing clinical decision-making to nationally accepted best practices, ACE peer review and accreditation services plays a critical role in continuous quality improvement programs. Learn more at http://www.cvexcel.org.