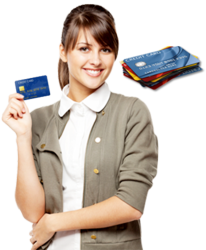 Greenville, SC (PRWEB) May 15, 2013
Credit Help Cards is an online business that supplies those with bad credit with great new credit cards. Although bad credit is usually a death sentence in the world of finances, companies like Credit Help Cards are fighting to help those struggling with bad credit.
No matter what an applicant's credit score is, Credit Help Cards does their best to get all of their applicants approved for great new credit cards. Credit Help Cards has approved hundreds of those who have been rejected by their bank, special credit agencies, and even the untrustworthy credit lenders that are best left alone. It may seem impossible to get a good credit card with certain credit situations, but to understand how Credit Help Cards can help, we first need to look at how they work.
To apply for a credit card today visit http://credithelpcards.com/
Credit Help Cards functions by working alongside the best bad credit providers in the nation. When an application is submitted, it is immediately presented to the best credit providers available, regardless of its credit score or history. Each lender competes for the application by offering their best rates and deals, which makes it easier than ever to find just the right credit provider. Not only is it easier than ever to be approved for a great credit card, but also applicants get to be sure that their credit card is perfect for them. The applicant gets to choose which major credit card they prefer, (MasterCard, VISA, Discover, and American Express.) They also can be assured that their credit card setup is tailored to their specific needs and goals, and can be easily managed with their current financial situation.
About CreditHelpCards.com
Credit Help Cards is the leading credit card finance provider in USA fully dedicated to help its customers acquire a credit card regardless of credit history. They design and develop customized no credit credit cards, bad credit credit cards, and good credit credit cards. Voted the best for "Quality Customer Service; Best National Credit Cards Service" by thousands of people, their finance experts focus in providing its customers information and various tools available for different credit card offers, help them to choose the best that fits their goals and needs.