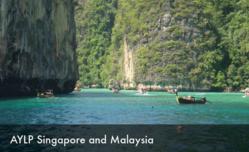 Mostly applicants ask what a program can do for them, but in the case of AYLP, we get the chance to share our experiences with our communities with a post-travel project. This is one of the reasons I am excited about AYLP
NEW YORK (PRWEB) May 14, 2013
Cultural Vistas is pleased to announce the selection of the 2013 class of the American Youth Leadership Program (AYLP) with Singapore and Malaysia, sponsored by the Bureau of Educational and Cultural Affairs (ECA) of the U.S. Department of State.
The 18 U.S. high school students and two educators selected to participate in this funded, yearlong program represent 15 different states, plus Washington, D.C. During the program they will gain firsthand experience and knowledge of the people and cultures of Singapore and Malaysia, with a specific focus on the two nations' approaches to sustainable development.
The students are currently in the midst of the virtual component of the program, performing research and collaborating together online on various pre-program projects to orient them to the cultures of each country and the environmental issues they will encounter.
At the end of June, they will come together in Los Angeles for a pre-departure orientation, and on July 1 they will fly to Singapore to begin their three-week immersion experience, which includes a series of educational and cultural workshops, team-building exercises, community service activities, university lectures, sightseeing, and homestay experience.
"It is a true honor to be a part of this important endeavor in Malaysia and Singapore. The pre-departure work has been meaningful and instructive," said Nora Laberee, an AYLP student participant and Medford, N.J. native.
She added the things she looks forward to most on the trip are "exploring the natural beauty of these countries, representing the USA with enthusiasm, making new friends, and gaining a deeper knowledge and understanding of the sustainability challenges there and elsewhere on this blue planet."
Upon returning to their hometowns, students will implement education and service projects in their communities involving the skills and learning they acquired during the exchange.
"Mostly applicants ask what a program can do for them, but in the case of AYLP, we get the chance to share our experiences with our communities with a post-travel project. This is one of the reasons I am excited about AYLP," said Nathaniel Larson, a high school student from Minneapolis. "This program combines elements of our topic of study – sustainable urban development – with interaction of the culture of Singapore and Malaysia, a duo that is, to me, irresistible."
This marks the third year of the American Youth Leadership Program, and the first with Singapore and Malaysia as the destination countries. Cultural Vistas previously administered American Youth Leadership Programs conducted in Japan for more than 60 American students and educators during both the summers of 2011 and 2012.
American Youth Leadership Program with Singapore & Malaysia
Class of 2013
Students
Cosmo Albrecht, Castle Hills, Texas
International School of the Americas
Chase Ammon, Washington, D.C.
School Without Walls
Kirsten Brodeen, Ft. Collins, Colorado
Rocky Mountain High School
Valerie Cazeau, Laurel, Maryland
Atholton High School
Noah Gallant, Bethany, Connecticut
Amity Regional High School
Patrick Goff, Albuquerque, New Mexico
Albuquerque Academy
Julianne Rose Goodman, Wyckoff, New Jersey
Bergen County Academies
Derek Kiy, San Diego, California
Canyon Crest Academy
Nora Laberee, Medford, New Jersey
Homeschooled
Nathaniel Larson, Minneapolis, Minnesota
Southwest High School
Forrest Malcolm, Pembroke, North Carolina
Purnell Swett High School
Justin Rebollo, Las Vegas, Nevada
West Career and Technical Academy
Ashley Reed, Hudson, Ohio
Hudson High School
Samuel Robbins, Midlothian, Virginia
Manchester High School
Mara Sherline, Baltimore, Maryland
Bryn Mawr School
Josue Tovar, Nevada, Iowa
Nevada High School
Sophie Westbrook, Lawrence, Kansas
Lawrence Free State High School
Jamie Withorne, Sioux Falls, South Dakota
Washington High School
Educators
Kristen Bright, Statesville, North Carolina
South Iredell High School
Mary Stewart, San Antonio, Texas
International School of the Americas
Learn more about the American Youth Leadership Program with Singapore and Malaysia at culturalvistas.org/aylp.
About Cultural Vistas
A non‐profit 501(c)(3) organization and designated sponsor of Exchange Visitor Programs, Cultural Vistas has facilitated professional exchange programs and services for visitors coming to the United States, and Americans seeking overseas experiential learning opportunities since 1950 — Learn more at culturalvistas.org
Follow @CulturalVistas on Twitter
About the U.S. Department of State's Bureau of Educational and Cultural Affairs
The ECA fosters mutual understanding between the people of the United States and the people of other countries to promote friendly and peaceful relations through a wide range of academic, cultural, and professional exchange programs — Learn more at exchanges.state.gov