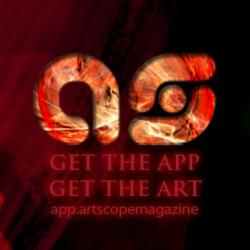 We've found our niche championing artists who are at the breakthrough points of their careers.
Quincy, MA (PRWEB) May 16, 2013
The May/June Issue of artscope Magazine features Contemporary Chinese Art at Brattleboro Museum and Art Center, Vermont, along with artists around New England. Embracing new technology, artscope also launches a mobile app to reach more readers, and adds a commenting feature to the ZINE (online publication).
According to Kaveh Mojtabai, artscope Publisher, "Even as we continue to bring the art community together for healing after the Newtown, Ct. tragedy, we were shocked by the Boston Marathon bombings. Artists from the region and around the world are contributing time and talent to help people cope."
The new issue focuses on contemporary Chinese art and exhibits 'Beyond the Borders' from Maine and New Hampshire to Vermont and Connecticut with many stops in Massachusetts and Rhode Island. 'Word and Image in Contemporary Art' at the Hood, Hanover, NH and 'Just Chairs at the New Hampshire Furniture Masters Gallery,' Concord, NH are well worth exploring during our traditionally fine early summer weather.
Managing Editor, Brian Goslow, commented, "We've found our niche championing artists who are at the breakthrough points of their careers. We've been first to mention them in print after their work grabbed attention at a group show, or at their first solo exhibition. The same goes for galleries when we capture the exciting point when an entrepreneur's dream becomes a reality."
About artscope, New England's culture magazine
Artscope encourages meaningful discourse on the arts, delivers the highest quality product possible using advanced printing and color reproduction technologies; offers editorial coverage on a wide variety of genres, mediums and time periods with a focus on living artists; support and advance New England's creative economy, cultural institutions and individual artists, expand the art market and facilitate democratization of the art world. Headquarters are at 809B Hancock St, Quincy, MA 02170.