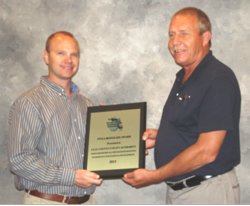 Jacksonville, Florida (PRWEB) May 15, 2013
The Clay County Utility Authority (CCUA) is the 2013 recipient of the Florida Water Environment Association (FWEA) Biosolids/Residuals Program Excellence Award for Technology Innovation and Development. CCUA received the award for implementing BCR Environmental's Neutralizer® solution at its four regional wastewater treatment facilities.
FWEA's Biosolids/Residuals Program Excellence Awards recognize excellence in all areas of biosolids management including programs with sound management, effective communication to stakeholders, and community-friendly practices. The purpose of these awards is to recognize and promote the safe management, public acceptance and beneficial use of biosolids.
"Implementing Neutralizer® at our wastewater treatment facilities has allowed us to simplify our biosolids treatment operations and lower our costs while producing a higher quality end product" said Dennis Martin, General Superintendent of Wastewater at CCUA. "We are honored that the Florida Water Environment Association has chosen to recognize our program through this award."
Since implementing BCR's Neutralizer® solution, CCUA has experienced elimination of odor issues and a reduction in energy consumption of approximately 90% compared to their previous biosolids treatment system. The implementation has also contributed to overall operating cost control, while at the same time upgrading their residuals from a Class B product to a Class A/EQ fertilizer.
"CCUA is an innovator in biosolids treatment and we are extremely proud of the role that BCR was able to play in helping them develop a biosolids management program that is providing an economic benefit to the county and an environmental benefit to the region," said Aaron Zahn, BCR President and CEO.
About Clay County Utility Authority
The Clay County Utility Authority provides water, wastewater, and reclaimed water utility service to the unincorporated areas of Clay County. The Authority aims to provide customers with the best long-term value at the lowest possible cost. At the core of CCUA's principals is the desire to lead the way in improving the quality of our environment. Recognizing their responsibility to be good stewards of the environment, CCUA pursues a long-range vision that provides conservation and environmental benefits, while providing the best water and wastewater values in Northeast Florida.
About BCR Environmental
BCR Environmental Corporation is a U.S. based clean technology company focused on providing industry-revolutionizing solutions that convert biosolids and organic wastes into safe, valuable, and marketable products. Our company and all of our solutions are based on the principals of simplicity, scalability, environmental responsibility, and economic viability. BCR's patented solutions include CleanB™, CleanB-AC™, and Neutralizer®. Our solutions eliminate odors and reduce capital and budgetary constraints. Each solution is designed to overcome the economy of scale limitations and operating complexity of traditional biosolids and organic waste management solutions.
For more information, visit http://www.bcrenv.com.