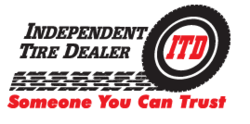 Now through May 31, 2013 Independent Tire Dealer provides exclusive customer access to unbeatable deals on Goodyear and Dunlop tires
St.Louis, Missouri (PRWEB) May 17, 2013
With over 200 locations from St. Louis to Kansas City, Independent Tire Dealer is known as an industry leader in affordability and customer service. Offering the lowest prices to their customers, they cut out the middleman, and pass the savings on directly to the consumer. As a group of independent dealers ITD has joined together to have the collective power of many of the larger chains to provide top-name brand tires, at low, warehouse prices. Independent Tire Dealer has one of the largest inventories of many top-performing brands including Bridgestone, Firestone, Goodyear, Dunlop, and Kumho tires. And now, with many more ways to save, customers can find the perfect tires for their needs, every time.
Now through May 31, 2013, Independent Tire Dealer provides exclusive customer access to unbeatable deals on Goodyear and Dunlop tires. Rebates can be picked up at participating dealers, and these savings are on top of ITD's already unbelievable prices. Customers can get rebates up to $80 on a set of four select Goodyear and Dunlop tires or double the rebate and save up to $160 when using the Goodyear Credit Card. Also available right now until June 30, 2013 receive $50 on a mail in rebate with the purchase of four select Kumho tires. For easy access, this rebate is printable directly from the website. Some terms and conditions may apply, so check with the nearest participating Independent Tire Dealer.
Independent Tire Dealer has a long-standing history of keeping the focus on their customers. On top of one of the best product selections and value, Independent Tire Dealer provides a customer-friendly and fully interactive website to help customers browse and shop for tires online, ready for installation at one of ITD's many certified installers. Shopping for tires online is made easy and fun, where online consumers can find the same great selection of tires, at unbeatable low prices with a click of a mouse, all from the comfort of their own home. Independent Tire Dealer's large inventory can be easily browsed, or narrowed down by brand, special offer, size, or vehicle. If new to the process, customers can now have an associate guide them through selecting the best tires for their unique needs. Independent Tire Dealer's easy to use website also features a wealth of information, tire specifications, news, tire tips and care tricks, as well as many online specials, printable rebates, and a handy location finder. For more information on current pricing and St.Louis tires & deals, log on to ITDroll.com today!
About Independent Tire Dealer: Founded in 1995, the Independent Tires Group began in the St. Louis area by a handful of independent dealers joining forces to create a network that has expanded to over 200 locations across Missouri, Illinois, Kansas, Iowa and Indiana. ITD has access to over 20 brands of tires and offers competitive pricing with personal service for a top quality customer experience.
Independent Tire Dealer- Someone you can trust!
http://ITDRoll.com/ was built and powered by Tire Company Solutions (TCS), the complete tire software solution company. TCS is on a mission to provide its clients with the best customer support in the industry by producing a stable, reliable product backed by a competent and knowledgeable staff. With nine years in business offering tools, resources and support, TCS strives to be the leader in customer satisfaction. TCS is located at 500s. Walnut Ave. Cookeville, Tennessee. For contact information, visit their website at http://www.tcstire.com