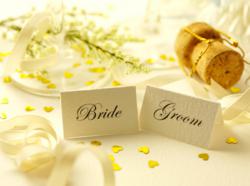 Newport Beach, CA (PRWEB) May 15, 2013
The average cost of a wedding may be comparable to an entire year's salary for some, but that doesn't mean all brides feel the need to dish out their life's savings (or their parents') to have the wedding of their dreams. Either by choice or out of necessity, some brides forego breaking the bank for their big day, instead opting for a less-extravagant, but equally-special celebration.
Even A-lister Keira Knightley showed off her economical side by wearing a dress straight from her own closet for her May 2013 walk down the aisle. But it's not only the bride or groom who can incur expenses when planning for a wedding.
"A wedding can be an expensive event for all those involved, not just the bride and groom," says Brett Reynolds, CEO of Wedding.com. "Bridesmaids are often expected to pay for their dresses, shoes, hair, nails and maybe more. It's important for brides to remember that these costs can potentially have an impact on a bridesmaid's financial situation."
When it comes to the bridesmaid dresses, penny-wise brides are sharing their frugal states-of-mind with their leading ladies by following a new trend in the wedding industry: bridesmaid dress rentals. (http://www.freep.com/article/20130503/FEATURES01/305030101/2013-wedding-trends).
Similar to how the groom and groomsmen rent their wedding tuxedos, bridesmaids now have the option to rent their dresses online. This allows the dresses to be borrowed for the wedding day at a much lower cost than purchasing. It also prevents the dresses from sitting in the back of closets for years to come. Available in a variety of colors and styles, there's something available to match any wedding day vision. And since they're not shelling out hundreds of dollars, bridesmaids are less likely to mind if the dress doesn't wow them.
An alternative to the rental route is choosing a style of dress that can be worn again. Many designers now offer dresses in shorter, tea-length versions, which can be worn at other parties, formal events or weddings. This allows bridesmaids to get more bang for their buck, and brides, especially with spring and summer weddings, find that shorter dresses bring a fun and fresh, yet elegant look to their big day.
Whether the bride is a big-spender or a penny-pincher, the options are out there now more than ever for finding the perfect bridesmaid dress at the perfect price.