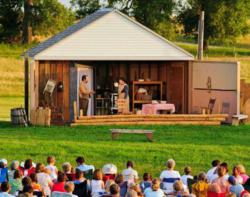 If sharing a good read with your child or grandchild is part of your family's daily schedule then a storybook vacation will be a hit.
Tampa, Florida (PRWEB) May 16, 2013
Stumped for a summer family vacation idea? Find a story and create a trip. Storybook family vacations offer endless possibilities for sharing family fun.
Some of the most popular and timeless children's books have real time vacation possibilities and the potential for incredible vacation memories. From living history on the prairie to big city adventures sharing a storybook holiday with a child cannot be beat.
"If sharing a good read with your child or grandchild is part of your family's personality then it makes logical sense that a storybook vacation will be a hit," according to Nancy Nelson-Duac, editor of the popular family vacation planning site, http://www.thefamilyTravelFiles.com.
The website showcases five storybook vacations with a "WOW" factor and appeal to all ages.
1. DeSmet, South Dakota - Little House on the Prairie. Each summer the stories of Laura Ingalls Wilder come to life on the edge of the prairie. The annual pageant is a magical experience which engages members of the audience and thrills those who have read the books included in the Little House series.
2. Hannibal, Missouri - Tom Sawyer & Huckleberry Finn. The remarkable stories created by Samuel Clemmons can be easily shared in Hannibal. Ride a Mississippi riverboat and go caving or talk with Mark Twain and see Tom and Becky act out their engagement.
3. Prince Edward Island, Canada - Anne of Green Gables. PEI is the location that captivated Anne in Lucy Maud Montgomery's memorable stories so naturally it is possible to walk in the footsteps of Anne in fact the entire island offers possibilities. An added bonus is Anne of Green Gables – the musical at the Charlottetown Festival.
4. London, England - Harry Potter. If you are considering a trip to London then why not make a connection with Harry Potter. The actual Harry Potter filming location is now open for tours and there is a clever do-it-yourself Harry Potter themed city walking adventure.
5. Paris, France - Linnea in Monet's Garden. Paris can be a magical place for families. The parks come alive with music, puppeteers, and mimes providing daily entertainment during the summer months. Magical carousels whirl and gardens are abloom.
More terrific family vacation ideas may be viewed at theFamilyTravelFiles.com or for the latest family travel news follow The Family Travel Files on Twitter (@FamTravelFiles) straight from the homepage.
About theFamilyTravelFiles.com
Founded in 1998, theFamilyTravelFiles.com is one of America's top-rated online family travel resources offering more than 1000 pages of family vacation ideas and trip planning information. The website specializes in family vacation ideas, destination and planning information, family travel advice, and family travel deals. The site features a number of vacation idea folders including Secret Places, All Inclusive, Beaches, Mountain Tops, Campout and Family Golf each loaded with great family vacation ideas.