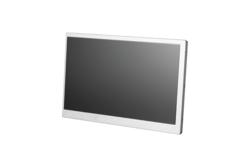 Camas, WA (PRWEB) May 20, 2013
Today, Sharp Microelectronics of the Americas (SMA) announced several expansions to its Industrial Strength LED-backlit TFT LCD product offering. These include: new PCAP (Projective Capacitive Touch) displays; Automotive-Grade displays for Industrial Applications (IA); new Wide Aspect Ratio LCDs (including 4.3-inch, 15.6-inch Full-HD and 23.5-inch diagonal); additional high-brightness LCDs; a competitively-priced "Value IA" line; and "Performance Consumer" LCDs for select applications.
The products meet the evolving needs of customers caused by increased market segmentation that requires a higher number of specialized applications, as well as the desire for IA LCDs backed by Sharp's warranties and product engineering support for cost-sensitive designs. The displays will be on show at Display Week, along with new offerings in Sharp's traditional Industrial Strength LCD line, OLED LCDs based upon Sharp's IGZO technology, Sharp Memory LCDs, and more. Display Week takes place May 21 - 23 in Vancouver, B.C. Find details about Sharp LCDs at http://www.SharpSMA.com.
NEW: Value IA (Industrial Applications) LCDs
New Value IA LCDs allow customers with budget-sensitive programs to integrate many of the features of Sharp's rugged Industrial Strength Sharp LCDs into their designs. These displays, which have a minimum 3 years production support, deliver additional value by allowing customers to benefit from Sharp's U.S.-based engineering and field sales support. The line currently includes panels in these popular diagonal sizes: 4.0-inch, 4.3-inch, 5.0-inch, 7.0-inch, 9.0-inch, 12.1-inch, and 15.0-inch. The line will continue to expand with new sizes and specifications.
NEW: Specialty IA LCDs
These new LCDs now allow customers to integrate Sharp LCD technology into specialty products, without the need for third-party, value-added OEM solutions. These include new 7.0-inch and 10.4-inch (diagonal) PCAP products for touch-screen designs (a 4.3-inch model is expected later this year). Also in this category is an expanded offering of high-brightness, high contrast LCDs, ranging up to 1200+ nits of brightness.
NEW: Automotive-Grade IA LCDs
Display Search forecasted Sharp as the #1 Automotive TFT LCD supplier in 2012 (by shipments), with 27.1% of the market (Sharp was also ranked #1 in 2011). Now, Sharp extends this technology into the IA space. These Wide Aspect Ratio displays are ready "out-of-the-box" for integration into customer designs requiring Automotive-Grade specifications for viewability in high-ambient or direct-light environments. The LCDs also feature the long product life, high brightness, high contrast, and rugged shock and vibration specs required for automotive solutions.
The low-glare displays are ideal for demanding, traditional IA applications such as medical equipment, industrial control, marine, and other high-performance devices. Currently available sizes include 4.2-inch, a 6.5-inch, and 8.0-inch (diagonal).
NEW: Performance Consumer LCDs
Additional products now available for IA solutions are Sharp high-performance consumer LCDs, originally designed for applications like smartphones and tablet computers. These panels are available to select IA customers looking for large-volume purchases, and with product lines adapted to the quick-turn lifecycles common for these types of devices.
Industrial Strength LCDs…Backed By Sharp
Sharp offers a full line of Industrial Strength LCDs for traditional IA applications, including ATM, Automotive, Factory Automation, In-Flight Entertainment, Gaming, Medical Devices, Point of Sale (POS) Terminals, Transportation, Test and Measurement, and many others. Contact your Sharp Representative or Distributor to learn more about these rugged, high-performance LCDs, with offerings ranging from 3.5-inch – 23.1-inch diagonal.
Customers benefit from Sharp's strong warranties, as well as full-service support from U.S.-based field sales and applications engineering teams. New Sharp IA panels are backed by long product life cycles, and supported with extensive documentation, including Specifications, Incoming Inspection Reports, Reliability Data, and a UL Parts List. Our Resources page at http://www.SharpLEDLCD.com also features instructional videos, "The Switch" podcast, technical papers, and other assets to aid in the design process.
Availability and Pricing
Product samples and pricing may be obtained through any Sharp Representative or Distributor. Sharp displays are RoHS* compliant, upholding the company's commitment to reducing the environmental impact of manufacturing.
About Sharp Microelectronics of the Americas
Sharp Microelectronics of the Americas (SMA) drives innovative LCD, optoelectronics, imager, and RF components to market. The world's leading manufacturers of consumer and business technologies look to SMA for the products, expertise, and worldwide support they need to make their visions a reality. SMA, in Camas, Washington, is the microelectronics sales and marketing division of Sharp Electronics Corporation, a wholly owned subsidiary of Sharp Corporation. For more information, visit us at http://www.SHARPsma.com.
∗ The Restriction of Hazardous Substances in Electrical and Electronic Equipment (RoHS) Directive (2002/95/EC). This directive took effect July 1, 2006. All measurements are diagonal. All Specification values quoted are Typical values. IGZO: (InGaZnO), an oxide comprising indium (In), gallium (Ga), and zinc (Zn). LED: Light Emitting Diode. OLED: Organic Light-Emitting Diode. CCFL: Cold Cathode Fluorescent Lamp. LCD: Liquid Crystal Display. OEM: Original Equipment Manufacturer. Sharp is a registered trademark of Sharp Corporation.