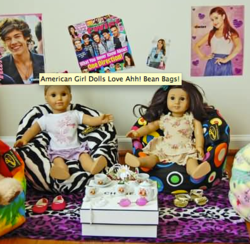 ASHBURN, Virginia (PRWEB) May 15, 2013
Ahh! Products, manufacturer of high-quality bean bag chairs, recently announced a line tailored to customers with American Girl® size 18" dolls and stuffed animals. These new bean bags, called "LiL Me," are ideal for pairing with Ahh! Product's regular line of child-sized bean bags.
As Jade Nguyen, owner of Ahh! Products says, the idea originated when her daughter asked why she couldn't have a bean bag for her own American Girl® dolls to match the one that she already had. Aware of the extreme popularity of American Girl® dolls and accessories —her daughter and her daughter's friends own 15 dolls between them—Nguyen realized the potential market, and made a mini bean bag for her daughter as a trial. It wasn't long before friends and neighbors asked for one for their children as well.
But LiL Me bean bags aren't just for the popular American Girl® doll line. Nguyen stresses that the bean bags are ideal for stuffed animals and any other 18" doll. They are the perfect size for pretend play, such as tea parties and sleepovers, encouraging creativity in children. The bean bags measure 14" X 7", and are available in most of the same fun designs as Ahh! Products' regular child-size bean bag chairs.
"Our bean bags for dolls (and stuffed animals) are both top quality and incredibly stylish, which is important to us to offer in our regular-sized and doll-sized bean bags," Nguyen says. "That means parents can get a fabulous bean bag for their daughter that matches one for her doll, both lasting year after year. Offering long-term value is a big deal for us, especially in today's economy." Ahh! Products' regular sizes are backed by a 10-year warranty, and the doll sizes come with a 1-year warranty, which is unusually long in the bean bag market.
Ahh! Products is running a giveaway now and plans to offer other promotions to spread the word about the "LiL Me" line. Response so far has been extremely positive, with interest from kids and adults alike.
Founded in 1998, Ahh! Products has specialized in comfortable, high-quality bean bags for over 15 years. As one of the longest lasting companies around, Ahh! Products has seen many bean bag sellers come and go. They are known for both their washable covers that focus on style and their exclusive water-repellant liner. Extreme strength is also a focus, with covers and liners made to never leak or tear, which often happens with other bean bags in the market. Liners are equipped with child-resistant, locking zippers in accordance with consumer safety guidelines.
Unlike Ahh! Products' regular size bean bags, LiL Me chairs do not have an inner liner. While the cover can still be washed if necessary, parents will need to store the inner filling safely away from children while the LiL Me bean bag cover is being washed. Once cleaned, parents need only stuff the lining back in and ensure the cover is safely zipped in place before putting it back in use. LiL Me covers have child-resistant zippers that lock.
Shipping is free on all Ahh! Products bean bag chairs. Prices start at $30 and go up to $376, depending on size (5 sizes ranging from mini 14" to giant 52" wide are available). All bean bags can be personalized with a child's or doll's name or initials. Ahh! Products offers colors and prints for kids, high-end lux styles for adults, and a very popular organic line. They are the go-to bean bag chair company for interior designers, who also take advantage of a custom-order program that is open to everyone (Ahh! Products can take customer-supplied fabric to manufacture the bean bag cover and will supply everything else.)
For more information about Ahh! Products' LiL Me line or any other product, visit http://www.ahhprods.com/ and see why celebrities, schools, hospitals, and thousands of people around the world have made Ahh! Products a part of their lives.