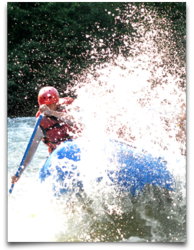 Seattle, WA (PRWEB) May 15, 2013
For whitewater river rafting enthusiasts, the middle portion of the spring season can often bring about the finest river conditions. Once temperatures begin to rise, and winter's final thaw is almost through, true rafters know that it's time to clear the cobwebs from their paddles. Well, thanks to a high pressure weather system that's parked off the coast of Washington state, water levels are rising to unprecedented levels, and rafting conditions have never been better. Local company, River Recreation, is reaping the benefits of the current atmospheric conditions, offering thrill seekers with rafting tours of the flourishing Wenatchee River region.
According to the USGS weather-data report, water levels throughout the Wenatchee River at Monitor, WA reached their highest point in all of 2012 at 23.38 feet. On May 13th 2013, water levels were already being reported at 24.21 feet. Analysts are claiming that the aforementioned high pressure weather system is working in conjunction with seasonably warm temperatures throughout much of the region, causing mountain snow to melt and river conditions to surge. The whitewater rafting veterans who populate much of the greater Seattle region will tell you that these rare conditions surely shouldn't be taken for granted.
Though widespread shifts in atmospheric conditions have become a growing environmental issue throughout much of the United States, rafting enthusiasts certainly haven't had anything to gripe about. River Recreation representatives are reporting that they've not witnessed water levels of this nature in over five years. The company, which opened their doors for business back in 1982, has also been stressing the fact that rafters of any skill and experience level can enjoy current conditions. Despite this spike in daily aquatic discharge, numerous portions of the mighty Wenatchee remain entirely placid, prime for first-time participants looking to leisurely putter about.
Those with a burgeoning interest in whitewater river rafting in the Seattle region certainly chose the right time to develop their affinity for the activity. While old pros will take much delight in traversing the endless rapids this spring season is sure to present, Washington novices can take solace knowing that many local companies are providing safe rafting tours to the general public. To experience these idyllic Wenatchee River conditions firsthand, contact River Recreation today, and start planning your next tour.