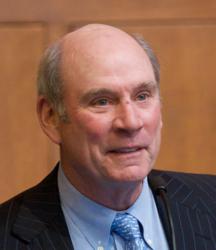 Chapel Hill, N.C. (PRWEB) May 15, 2013
The University of North Carolina Kenan-Flagler Business School has named its real estate center in honor of alumnus Leonard W. Wood, founder of Wood Partners, L.L.C., of Atlanta.
"The naming of The Leonard W. Wood Center for Real Estate Studies honors the extraordinary commitment of Leonard Wood to real estate education at UNC Kenan-Flagler," said James W. Dean Jr., dean of UNC Kenan-Flagler. "We are proud of his career success and grateful for his role as a strong advocate, loyal alumnus, steadfast donor, and active volunteer mentor on behalf of our real estate program."
UNC Kenan-Flagler has been a leader in real estate education for 40 years, developing students' knowledge and technical skills so they can build successful careers in real estate. Founded more than a decade ago, the center bridges the worlds of academia and industry for students, faculty and alumni.
Wood received his MBA from UNC Kenan-Flagler in 1972, and he received its 2008 Leadership Award for exceptional career achievement and service to UNC Kenan-Flagler. He serves on the center's advisory board and the school's Board of Visitors
"I have long believed that it is important to give back. I have been especially keen on supporting education, as I believe that well-educated citizens will help to keep America great," said Wood. "Real estate is a vital part of each community. It is where we live, work and play. As our population continues to grow, it is critically important that real estate evolves to become greener and to enhance our lifestyles and productivity. It is very important to do a great job of educating our future real estate leaders so they are able to create great projects that keep pace with the times and customers' needs. It is my hope that the Wood Center for Real Estate Studies will be able to meet these educational goals for many generations."
The naming was announced at the 2013 UNC Real Estate Conference held April 18 at UNC.
Prior to forming Wood Partners, Wood was the group managing partner responsible for overseeing the activities of Trammell Crow Residential throughout the Southeast, North Florida, and Midwestern United States. He is a former chairman and board member of the Multi-Family Leadership Board of the National Association of Home Builders; former chairman and board-of-director member of the National Multi Housing Council; and a past governor, trustee and chairman of the Multi Family Council of the Urban Land Institute.
#
The University of North Carolina Kenan-Flagler Business School
Consistently ranked one of the world's best business schools, UNC Kenan-Flagler is known for its collaborative culture that stems from its core values: excellence, leadership, integrity, community and teamwork. Professors excel at both teaching and research, and demonstrate unparalleled dedication to students. Graduates are effective, principled leaders who have the technical and managerial skills to deliver results in the global business environment. UNC Kenan-Flagler offers a rich portfolio of programs and extraordinary real-life learning experiences: Undergraduate Business (BSBA), full-time MBA, Executive MBA Programs (Evening, Weekend and global OneMBA®), online MBA@UNC, UNC-Tsinghua Dual-Degree EMBA, Master of Accounting, PhD, Executive Development, and UNC Business Essentials programs. It is home to the Frank Hawkins Kenan Institute of Private Enterprise.