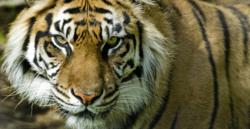 Operating since 1963, the zoo has been the home to hundreds of animals from squirrels and deer to tigers and bears.
Rocklin, California (PRWEB) May 15, 2013
Join us for the last Natural History Museum lecture of the school year! Karrie Kolodziej, former Sierra College student and current zoo keeper at the Folsom City Zoo Sanctuary will describe the history and mission of our local zoo along with her experiences as a zoo keeper. She will also talk about the qualifications and qualities it takes to be a zoo keeper and what is involved in this career.
This presentation is part of the Sierra College Natural History Museum's 2012-2013 lecture series, and will be held on Friday, May 17 at 7:30 pm in Sewell Hall, room 111. Tickets are available at the door. Prices are General $5 / Students and Seniors $2 / Museum members free. All proceeds benefit the Sierra College Natural History Museum.
The Sierra College Rocklin Campus is located at 5000 Rocklin Road in Rocklin. There is a $3 parking fee on campus. Parking permits are available at dispensers located in the parking lots. For more information, call the Sierra College Natural History Museum at 916-660-7926.