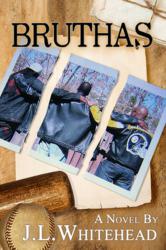 (PRWEB) May 15, 2013
Wayman Publishing features J.L Whitehead and his novel 'Bruthas' this May.
For many years journalist, and author, J.L Whitehead has shown much kindness to fellow authors, including authors published by Wayman Publishing. In an online article, EC Stilson wrote:
"At the beginning of 2012, I heard about a reviewer who works for The Examiner. I looked him up online and was very impressed. He had helped so many authors' careers, just by reviewing their books. I took a chance, and contacted him through Facebook … Later, the review he gave my book marked the beginning of all the success I had that year. I drew the attention of big-name authors. I was able to make connections that got me a signing at Barnes and Noble and other helpful stores. But none of this would have happened without J.L Whitehead. He believed in my writing enough to promote it more than I'd ever hoped. He (inadvertently) inspired me to land my first signing. Because of him my writing has reached more readers than I'd ever hoped."
Not only is Whitehead a stellar reviewer, he's also a phenomenal author.
There is no shortage of drama in J.L Whitehead's new novel, "Bruthas," which chronicles the relationship between three brothers and the way that their lives as a unit and individually are changed forever when tragedy strikes. Set in North Philadelphia, an area that is notorious for frightening crime, "Bruthas" follows the titular set of siblings through a haze of doubt, guilt, and blame in the wake of careless violence.
The dilemma at the heart of the novel goes deeper than disparities between siblings. The crime at the center of the plot dredges up the three brothers' personal demons and uncertainties, while testing their loyalty and faith in family as an institution. Whitehead expertly pits his characters against each other in situations that are compelling, thrilling, and impossible to forget once you've finished the final page.
Though the plot at work in "Bruthas" is unique, well thought-out, and pitch-perfect, it's impossible to read this novel without questioning the workings of your own sense of truth, integrity, and responsibility. Whitehead succeeds in penning a thrilling crime novel that is certain to stick in your mind far longer than you would think possible. The questions and realities that this book addresses will speak to a broad audience, underlining with ease and grace the common threads of humanity that unite us all.
Wayman Publishing is very grateful to J.L Whitehead for selflessly helping so many authors. That's why they've chosen to spotlight him this week as part of their Random Acts of Kindness Event.
For More about Wayman Publishing's Random Acts of Kindness scheduled events please go here: http://www.waymanpublishing.com/index.php/component/k2/item/82-random-acts-of-kindness
For more information about Jerome L. Whitehead, please visit http://www.fourbrotherspublications.com/.
For media inquiries or to request a review copy, please contact:
Jerome L. Whitehead
Jeromel.whitehead(at)fourbrotherspublications(dot)com.