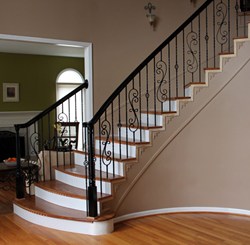 Goshen, IN (PRWEB) May 15, 2013
StairSupplies.net is now offering a wide variety of stained and finished stair parts. StairSupplies.net is a trusted name in the stair parts business. Recently, however, they expanded their inventory to offer customers an even greater selection to choose from. If someone is planning a home renovation or construction project in the near future, they should check out their enormous selection with dozens of different sizes, styles and designs to fit anyone's preference.
Navigating through their user-friendly site, one will be able to choose the stain color from a dropdown box. Examples of each finish are displayed to help the customer make the right choice. StairSupplies.net offers everything from clear finish to a deep mahogany finish. Of course, anyone can always opt for no finish if they prefer a natural look instead.
Something that makes StairSupplies.net unique and sets them apart from their competitors is the company's 7-step purchasing process. With so many different types of stair treads and parts available, trying to find a specific model can prove to be a challenge. StairSupplies.net has solved this problem through their unique 7-step process. Using this process, they'll have the customer setup with the perfect stair parts in no time at all.
StairSupplies.net offers stair parts available in over 30 different types of wood species. Some of the most popular hardwood materials include Ash, American Cherry, Cyprus, Hard Maple, Hickory, Red Oak, Soft Maple, Spanish Cedar, Teak, Red Cedar and White Oak. However, there are dozens of other hardwood materials available to choose from as well. A visitor should browse through all of the available selections at StairSupplies.net before making a final decision.
The company operates with headquarters located at 1722 Eisenhower Dr North, Goshen, IN 46526. Here, anyone can find them working around the clock to meet and exceed their customers' expectations.
Len Morris, owner of StairSupplies.net recently said, "Our goal is to provide our customers with the highest-quality stair parts along with exceptional customer service. We are eager to work with our customers to help them choose the right stair parts catered towards their specific needs."
Home builders and contractors frequently purchase stair parts from StairSupplies because of the savings it provides. While staining and finishing authentic hardwood stair parts can be done on site, it tends to cost more money and takes more time. Trying to stain parts at a construction site is also more difficult, and it doesn't always come out the way you had hoped for. A more sensible solution is to purchase the stair parts already stained directly from the company, saving both time and money.
All of the products offered at StairSupplies are designed to protect against natural wear and damage. The authentic hardwood materials combined with their high-quality finishing techniques provide optimal protection against common forms of damage. Using their high-end stair parts will ensure that a customer will not have to go back to repair or fix problems in the future.