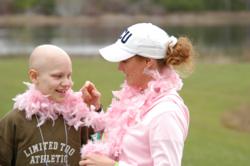 The study confirms what we've known anecdotally about the positive impact our camps have on children.
Eustis, FL (PRWEB) May 14, 2013
Children with serious illness are faced with a myriad of physical and social challenges often resulting in isolation from peers, loneliness and limited personal growth. According to an evaluation conducted by the Yale Child Study Center, children with serious illnesses who attend a SeriousFun Camp showed improved confidence, higher self-esteem, a greater sense of independence and increased interest in social activities. The study also revealed that children's stress related to their illness decreased as a result of the camp experience.
More than 250 families from 12 of SeriousFun's U.S. and European–based camps, including Camp Boggy Creek, were surveyed before and after the 2012 summer camp experience, examining the impact of residential camps on the lives of children and their families. All SeriousFun Camps deliver the same or similar programs, and there were no material differences in outcomes among member camps.
"The study confirms what we've known anecdotally about the positive impact our camps have on children," said June Clark, President and CEO, Camp Boggy Creek. "We plan to use this information to optimize the outcome-based programming our camp delivers."
Significant findings from the study include the following observations from parents of children that attended a SeriousFun Camp:

83% reported an increase in confidence;
80% reported an increase in self-esteem;
76% reported an increase in maturity;
74% reported an increase in independence;
72% reported an increased interest in social activities.
The ability for children with serious illness to make friendships and form social connections also appeared to be a formative outcome of the research. 98% of campers reported making at least one friend and 58% of those reported that the friendships lasted beyond the camp experience through in-person visits, texting, phone and online communications.
In addition, the data suggests that resilience indicators such as possessing positive coping strategies, illness-related stress and happiness, were higher or showed significant improvement following camp.
"Developing positive adaptive abilities for dealing with challenges such as illness is critical, especially for children, for their personal growth, development, and building a set of resilience- promoting skills," said Dr. Linda Mayes, M.D., professor and co-principal investigator, Yale Child Study Center, Yale Child Study Center. "Our work with SeriousFun points to the impact of the camp experience on fostering these resilience-promoting skills and facilitating children's ability to develop and maintain more positive, social connections important to their overall health and well-being."
The research team from Yale Child Study Center includes Dr. Linda Mayes, M.D., Dr. Steven Southwick M.D and Dr. Shauna Tominey, Ph.D. All have extensive expertise in the fields of child development and neuropsychology, among others.
The survey, from which comparative data was drawn, was conducted one month after camp. A six month follow-up survey with the same group of parents is currently in progress with the intention of better understanding the potential for lasting change in children following camp attendance.
Camp Boggy Creek serves children ages 7 through 16 with one of the following diseases, illnesses or conditions: asthma (severe), bleeding disorders and hemophilia, cancer, craniofacial disorders, diabetes, epilepsy, heart/cardiovascular, HIV/AIDS (immune deficiency), inflammatory bowel disease, kidney disease, rheumatic disease, ventilator assisted disorders, sickle cell/ anemia, spina bifida and transplants.
The full evaluation completed by the Yale Child Study Center is available upon request.
# # #
About Camp Boggy Creek
Founded in 1996, Camp Boggy Creek is a year-round medical camp for children with serious illnesses. Co-founded by actor/philanthropist Paul Newman and General H. Norman Schwarzkopf, the camp offers week-long summer sessions and family retreat weekends at no charge to the children or families. Located in Eustis, Florida, the 232-acre nonprofit serves children ages 7–16 that have been diagnosed with chronic or life-threatening conditions. The camp is entirely funded by generous donations from individuals, corporations, foundations and healthcare partners. Camp Boggy Creek is a proud member of SeriousFun Children's Network. Learn more by visiting campboggycreek.org.
About SeriousFun Children's Network
SeriousFun Children's Network is a growing global community of 30 camps and programs serving children with serious illnesses and their families, always free of charge. Founded by Paul Newman in 1988, SeriousFun has served over 400,000 children and families from more than 50 countries. Each member camp is an independent, not-for-profit organization dependent upon private funding to serve all children at no cost to their families. A Support Center raises funds and provides central standards and services for all SeriousFun camps and programs. To learn more about SeriousFun, visit http://www.seriousfunnetwork.org.