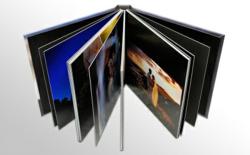 Palo Alto, CA (PRWEB) May 15, 2013
BrideBox, a professional wedding album design solution offering direct to bride professional wedding albums, has released a new online album creation tool. The tool enables brides to create professional wedding albums with professional designs in minutes.
"This new online wedding album tool is a powerful add-on to our desktop album creation software," says Bryan Passanisi, BrideBox Marketing Manager. "The online album creation application has some very unique concepts. The bride can select from different professionally design wedding album templates, then just drag and drop her wedding photos into the templates, customize and she is done. Since BrideBox key focus is on wedding albums, the end result is still a beautifully designed album in a few minutes."
All albums created with the new online tool will be manually color corrected, as are all albums created with BrideBox wedding album creation applications. Every wedding album is handcrafted by our lab technicians and overlooked for quality assurance before sent out.
In a world that time is so limited, simplicity and speed is in high demand. "We are happy to offer our customers this new design path without any compromise in quality of design or finished product, adds Passanisi. Brides will have a tool that can cut significantly the hassle of making their DIY professional wedding album, and saving a bundle in the process."
The new online creation tool will be the base for many new unique wedding products launches in the coming months and is available at Create.BrideBox.com
About BrideBox
BrideBox is devoted to helping couples design their own wedding albums. The BrideBox line of wedding albums offers unmatched quality, without sacrificing top photo finishing that mark a professionally produced album. Through the BrideBox software platform, couples can create albums produced with the same individual attention of imaging professionals for a significant cost saving.
BrideBox is a division of DigiLabs, Inc., a privately-held company that creates superior photo products available through professional photographers.
Find BrideBox on Facebook - http://www.facebook.com/BrideboxWeddingAlbums
To download the free software application, visit http://www.BrideBox.com