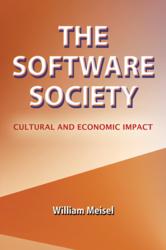 As our connection to technology tightens, it drives rapid cultural evolution, changing what it means to be human.
Los Angeles (PRWEB) May 16, 2013
Is more natural and readily-available access to computer technology changing what it means to be human?
Technology industry analyst William Meisel explains both the potential and limitations of using computer intelligence to enhance human intelligence in his new book, "The Software Society." Based on his extensive background in technology, including academic research and running his own software company for 10 years, Meisel outlines the current cultural and economic evolution resulting from rapid advances in technology.
"With an always-there availability through mobile devices, software is becoming more tightly connected to humans through advances in computer processing of speech and language," Meisel says. "As our connection to technology tightens, it drives rapid cultural evolution, changing what it means to be human."
While advances in technology have always driven major changes in society and the economy, Meisel puts in perspective the increasing pace of said changes driven by software and the impact it will have on our future.
"The Software Society" explores such important topics as the constant availability of computer intelligence through mobile phones and the role of software in the current recession in terms of making it possible to automate more jobs, demonstrating the need to better understand these trends.
"Software advances can make the economy more efficient; however, when automation is carried too far, jobs disappear," Meisel says. "This book recommends a remedy for this problem that encourages achieving productivity through creating more effective jobs rather than replacing them."
Through the book, Meisel has one ultimate goal: that readers understand how current accelerating changes in technology driven by software can make our lives better and how we as a society can take advantage of this trend and avoid problems it might create.
"The Software Society" by William Meisel
Hardcover, $27.48
Paperback, $17.48
e-Book, $3.99
ISBN: 978-1-46697-413-5
Available at bookstores, amazon.com.barnesandnoble.com, trafford.com and other online outlets. For more information please visit http://www.thesoftwaresociety.com.
About the author
William Meisel graduated from Caltech and earned his Ph.D. in Electrical Engineering from the University of Southern California. Meisel was a professor of electrical engineering and computer science at USC, published a technical book on how computers can recognize patterns, and applied that technology to military and intelligence goals as Manager of the Computer Science Division at a small defense firm. He also founded and ran a company for 10 years developing speech recognition technology and products, and is the executive director of a 30-year-old nonprofit industry organization, the Applied Voice Input Output Society. Meisel is currently an independent industry analyst with a technology newsletter, blog, and organizes the annual Mobile Voice Conference. He resides in Tarzana, Calif.