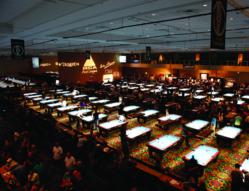 "The greatest pool players from around the world under one roof playing for a lot of money. It doesn't get any better than that."
Las Vegas, Nevada (PRWEB) May 16, 2013
Produced by CueSports International, the 11-day pool extravaganza sports three major amateur pool championships, three major pro events, one world trick shot championship, and several special pool events, all contested on over 300 pool tables at the Rio, immediately following the World Series of Poker.
Based on 2012 figures, the 37th BCAPL (BCA Pool League) National Championships and the 3rd USAPL (USA Pool League) National Championships can expect to draw over 6,000 contestants from 45 U.S. states, 9 Canadian provinces, and 13 other countries.
In addition to the two amateur national league tournaments, CueSports International also produces three professional level events, the US Open One Pocket Championship, the US Open 10-Ball Championship and the US Open 8-Ball Championship, which will also take place at the Rio July 17-27th.
These professional events have included some of the world's top ranked players, such as Efren Reyes, Dennis Orcollo and Francisco Bustamante from the Philippines; Ralf Souquet and Thorsten Hohmann from Germany; Darren Appleton and Chris Melling from England; Ching-Shun Yang and Pin-Yi Ko from Taiwan; and Shane Van Boening and Mike Dechaine from the United States to name a few.
"The greatest pool players from around the world under one roof playing for a lot of money. It doesn't get any better than that." said John Bertone, owner of KamuiTips.com
Affiliate organizations will be offering special feature events, including the 20th US Junior National 9-Ball Championships (produced by the Billiard Education Foundation) and the WPA World Artistic Pool Championship. Plus, new pool competitions will be introduced by 6 Pocket and Texas Bumps.
Sponsors include: Rio All-Suite Hotel & Casino, Mueller Recreational Products, Diamond Billiard Products, Simonis (cloth), Cyclop (balls), Predator Cues, OB (cues), the American Cuemakers Association, and Billiards Digest.
All events are played on Diamond Pro tables made by Diamond Billiard Products and will be streamed live by The Action Report (http://www.TheActionReport.com). Over 70 retail booths will sell billiard related products to all in attendance. All events are open to the general public, and special VIP spectator seating is available at modest prices.
CueSports International is dedicated to creating more choices for all players. In the past 8 years CSI has directly paid out $8,000,000 to players. Visit http://www.playcsipool.com, http://www.playbca.com, and http://www.playusapool.com for more information about CSI and its divisions.
Become a FAN of CSI -- https://www.facebook.com/playCSI