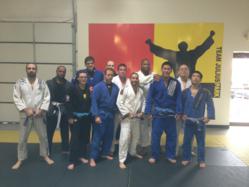 (PRWEB) May 15, 2013
Crazy 88 Brazilian Jiu-Jitsu is one of the premier Mixed Martial Arts gyms in the United States. Crazy 88 is recognized for having both a high-level Muay Thai Kickboxing and Mixed Martial Arts program. However, the academy's Brazilian Jiu-Jitsu team has received the most acclaim throughout the globe. Crazy 88 has produced countless Grand Slam Medalists and champions.
To get promoted in the Crazy 88 Brazilian Jiu-Jitsu system requires a high-level of commitment and discipline. The team has a reputation for holding off on promotions; it takes most students at least two years to get their blue belt. Since promotions are so rare at Crazy 88, it is a big deal at the academy when there is one.
This past week two of Crazy 88's best white belts, Jon "Army's Most Dangerous Man" Kim and Dan "Daniel" Russo were promoted to the rank of Blue Belt. Both Jon Kim and Dan Russo have been in the program for several years and are successful competitors.
Jon Kim has trained at Crazy 88 Brazilian Jiu-Jitsu for a little over two years. Jon had experience with Karate, Judo, and Army Combatives prior to starting his Brazilian Jiu-Jitsu training. Jon was the "King of All White Belts" at Crazy 88. In addition to that honor, he was a Good Fight and IBJJF New York Open Champion this past year. Jon looks at this promotion as another milestone on his path to Black Belt.
"This has been an awesome week…I progressed one step towards my goal of becoming a Black Belt one day."
Dan Russo is an example of how the system at Crazy 88 Brazilian Jiu-Jitsu can make the average Joe into an excellent Jiu-Jitsu practitioner. Dan lives a normal life; he has a 9-5 job with a wife and children. Although this would cause many to not commit to making Jiu-Jitsu a part of their life, Dan Russo trains at least four times a week.
The promotions of Dan and Jon mark the first of 2013, but will not be the last. As per tradition, after the IBJJF World Championships some members of the team are bumped up to the next belt level.
For more information about Crazy 88 Brazilian Jiu-Jitsu visit their website: http://www.baltimoremixedmartialarts.com or call 443-283-1450.