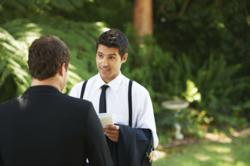 "If you wait until the last minute...it only takes a minute" - Laugh Staff Founder Cameron Amigo on their new service to write a best man speech in less than 12 hours.
Cleveland, OH (PRWEB) May 15, 2013
Wedding season is right around the corner. There will inevitably be many last minute details to take care of, and now one of those things can be the best man speech.
Laugh Staff wants to make sure best men all over the country are ready when the spotlight is on them at the reception. With the Speech 911! option, clients can get a professional, funny best man speech by 3 p.m. the day of the wedding.
To choose the Speech 911! package, clients simply select the package on the Laugh Staff website. Then, upload as much information as possible, including but not limited to: funny stories, how the happy couple met, interests and passions, relationship to the bride or groom, etc. A questionnaire will also be provided. Then, an on-call comedian will call the client first thing Saturday morning to discuss the details of the wedding. The best man then just needs to check his email by 3 p.m. (at the latest) for a well-crafted, personalized best man speech.
"The client can purchase the package by 3 a.m. Saturday morning and receive a best man speech in 12 hours or less and no one has any idea he waited until the last minute to 'write it'," said Laugh Staff co-founder Cameron Amigo. "This speech package is specially designed for procrastinators or anyone with writer's block. Our team of professional comedians and writers are standing by to help the best man on the go."
It is an honor to be asked to speak at a wedding, so no one should go into the reception hall unprepared. Laugh Staff's team of professional writers and comics will work one-on-one with novice speakers to help draft and deliver the highest quality of speeches on the go. It is the client's speech; Laugh Staff wants to help make it better.
For more information about Laugh Staff, Inc. visit http://www.laughstaff.com, call 740-706-6690 or email info(at)laughstaff(dot)com.
About Laugh Staff, Inc:
Laugh Staff, Inc. was founded in 2012 by a team of comedians and writers in Cleveland, Ohio. Laugh Staff helps their clients with best man speeches as well as providing best man speech examples on their blog. They assist best men and maids of honor in speech-editing, speech writing, and provide training on speech delivery. Recognizing the importance of the big day, Laugh Staff's professional comedians work with best men and maids of honor to ensure they make a lasting impression.