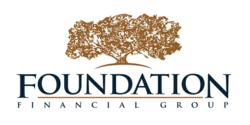 Our Mortgage Division's success this quarter reverberates through the entire company as encouragement for everyone to go that extra mile and achieve more
Jacksonville, Florida (PRWEB) May 29, 2013
Foundation Financial Group reported first quarter 2013 as a record quarter for the company's Mortgage Division. Earnings during this time surpassed those in first quarter 2012 by 10 percent.
FFG's Mortgage Division opened the year with a record-breaking quarter and continues an impressive pattern of growth for the company. The financial services corporation had a record year in 2012; FFG experienced a 39.9 percent increase in unit volume over 2011. Foundation Financial Group has funded over $4 billion in loans and continues to help American families improve their financial situations.
The company credits its success to maintaining an impressive turnaround time while still providing the highest possible level of personalized customer service. Foundation Financial's average loan processing period of 15 days is three times faster than the industry's average of 45 days. FFG's mission is to serve its customers with honesty, integrity and competence unmatched.
"Our Mortgage Division's success this quarter reverberates through the entire company as encouragement for everyone to go that extra mile and achieve more," said Foundation Financial CEO Mark Boyer. "Our Mortgage Division has been breaking records at a phenomenal rate in part because FFG's unique pay for performance and responsibility philosophy rewards our employees' solid work ethics. At Foundation Financial Group, we're bringing excellent customer service and expert financial advice to every customer interaction and frankly, it shows."
About Foundation Financial Group
Foundation Financial Group is a multibillion dollar financial services corporation. FFG offers its customers Best in Class service through its Insurance, Retirement and Mortgage Services. Named one of the fastest growing financial companies in the country by INC magazine, FFG has continued to grow its nationwide presence with over 100,000 new customers per year in 39 states. In addition to the value that Foundation Financial provides every customer, it is also dedicated to its communities and the people who live in them. Through a vast array of philanthropic endeavors the company not only provides significant monetary donations but also fosters a workforce environment that encourages all team members to personally make a difference. Foundation Financial is committed to its strong focus on customer service and community investment as it continues to grow and compete with the largest financial institutions in the world.
Foundation Financial Group reviews all public relations inquiries. For additional information, interview and image requests, contact the Foundation Financial Group Public Relations team.