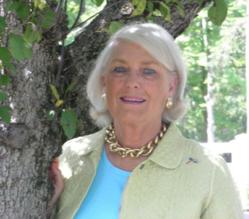 Every day I read about women and their families who are fighting ovarian cancer which makes me even more determined to get more people involved in our awareness campaign.
Brookside, NJ (PRWEB) May 16, 2013
Most people in real estate work 24/7 with nonstop phone calls, presentations, contract negotiations, and more. Jane MacNeil does all that yet somehow still manages to find the time and energy to commit herself 100% to running a nonprofit dedicated to saving women's lives.
MacNeil is president of Turn The Towns Teal®, a New Jersey-based nonprofit that promotes awareness of ovarian cancer, the leading cause of death from all gynecologic cancers in the U.S.
Even though she does not consider herself a high-energy person, in less than six years MacNeil has managed to do what many nonprofits with 10 times the staff and resources rarely accomplish. Working with only one part-time assistant, she's grown Turn the Towns Teal from a campaign with a handful of volunteers in New Jersey towns to a national, grassroots movement with registrants in 36 states.
"A couple of years ago when the real estate market was down, I often joked that I had two full-time volunteer jobs, but I wouldn't give up one minute that I devote to Teal and often wish there were 48 hour days," MacNeil says. "Every day I read about women and their families who are fighting ovarian cancer which makes me even more determined to get more people involved in our awareness campaign."
Each September, coinciding with National Ovarian Cancer Awareness Month, volunteers across the country tie biodegradable, made-in-the-USA ribbons in and around town centers, on trees, mailboxes, cars and other objects to make people aware of ovarian cancer and its subtle symptoms. MacNeil's "teal angels," as she calls the volunteers, also distribute symptom cards and literature to health clubs, libraries, church groups, and stores.
Of course, every campaign requires planning and energy. Since volunteers need to sign up in advance to "teal" their towns in September, MacNeil is in touch with individuals and other organizations months before then, hoping to encourage more and more people to volunteer. After registering on the organization's website, volunteers must get permission from their municipal officials to "teal" in town centers or other highly visible areas.
"I volunteer because I want every woman to be as lucky as I was," says Terry Viega, an Allentown, NJ ovarian cancer survivor who will "teal" for her fourth year this fall. "Just last year my friend, who had been feeling bloated, was driving down our Main Street and saw all our ribbons. They prompted her to call her doctor and it turned out she had cancer. I was thrilled that I could help."
The campaign was started in 2007 by MacNeil's late sister-in-law, Gail, who recognized there was not adequate awareness of ovarian cancer and its symptoms. "Gail questioned her gynecologist on three separate occasions, complaining of feeling bloated," said MacNeil. "Each time she was assured her symptoms were associated with middle age. Had she known what we now know about the symptoms of ovarian cancer she would have immediately sought the advice of a gynecologic oncologist."
"All women are at risk and what happened to Gail is, unfortunately, not uncommon," says MacNeil, who took over the organization in 2008. "There is no early detection test and the disease is often not diagnosed until the later stages. Yet if women are aware of the early signs and symptoms, they can be diagnosed when the cancer is confined to the ovary, and the five-year survival rate is over 90 percent."
To reach more women, Turn The Towns Teal announced last month that Shannon Miller, the most decorated gymnast in U.S. history and an ovarian cancer survivor, had partnered with the organization and is serving as Honorary Chair of its 2013 Campaign.
"We're delighted Shannon is helping us," MacNeil said. "With more than 22,000 women newly diagnosed each year, and more than 15,500 lost to the ovarian cancer annually, we're hoping a lot of people will join us and register this year."
_________________________________________________________________________________
Turn The Towns Teal® is a national nonprofit that was founded in 2007 by Gail MacNeil of Chatham, NJ. The campaign goes on in her name and in her honor. For more information about Gail's story and how to become a Turn TheTowns Teal volunteer, go to http://www.turnthetownsteal.org.