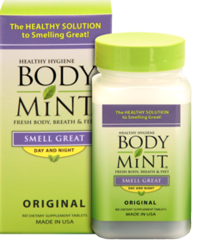 Los Angeles, CA (PRWEB) May 15, 2013
Body Mint-USA has just introduced their deodorant tablet that works to minimize and prevent everyday body odors. What sets this innovative product apart from others is the fact that it is chemical and aluminum free. Body Mint also works from the inside out so odors all over the body are minimized including underarm, breath, perspiration and foot odors. The makers of Body Mint spent three years developing this product and are excited to offer a deodorant that works to eliminate odors without adding more chemicals to the environment.
Body Mint comes in tablet form and when added to a daily hygiene routine it helps individuals deal with the odors that cause embarrassment in many everyday situations. Body Mint's main ingredient is chlorophyllin, a derivative of chlorophyll. Each Body Mint tablet includes 100 mg of chlorophyllin and has been designed to offer odor protection throughout a single day and night.
The reason consumers find Body Mint so appealing is that it is derived from natural chlorophyll and contains a large amount of antioxidants that are proven to be effective at combating unwanted odors. The best thing about this deodorant is that it eliminates the use of aluminum that is part of every chemical-based deodorant. Many people are uncomfortable rubbing aluminum under their arms every day and Body Mint gives them an aluminum free deodorant alternative.
Body Mint has been described as a deodorant, a mouth wash and a foot powder all rolled into one small tablet. The power of this product lies in its ability to work from within the body attacking the cause of odors at their source.
Those who want to learn more about Body Mint can visit the website at http://bodymint.com/ or call 1.866.274.6468 to speak with a company representative. Body Mint also has a presence on Facebook, Twitter and YouTube and when visitors go to the Body Mint website they are able to chat live with an expert on the product.
ABOUT BODY MINT-USA LLC
Body Mint-USA, LLC is a subsidiary of Hawaiian Organics, LLC. The company was founded in 1997 with the mission to research and develop unique and healthy products that enhance the quality of life. Body Mint is Hawaiian Organic's first and most successful product. Body Mint is a natural, ingestible body and breath deodorizing/freshening tablet that is basically a deodorant in a pill
###