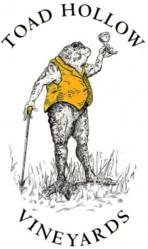 Unoaked Chardonnay is who we are...it's always been at the core of our identity.
Healdsburg, CA (PRWEB) May 15, 2013
Toad Hollow Vineyards is kicking off its 20th anniversary celebration with the summer release of the 20th vintage of its signature Unoaked Chardonnay "Francine's Selection". This wine gave Toad Hollow its start and paved the way for a style of Chardonnay that has enjoyed significant popularity and volume growth in the U.S. market in recent years. Sourced from family farms in Mendocino County, the 2012 Toad Hollow Unoaked Chardonnay ($13.99) was fermented and aged entirely in stainless steel – a style that Toad Hollow Vineyards introduced to the U.S. – allowing the pure, clean flavors of the Chardonnay grape to take center stage. Although Toad Hollow's portfolio includes several delicious varietals, the Unoaked Chardonnay "Francine's Selection" remains its flagship wine, accounting for the majority of the winery's production and sales. According to Symphony IRI data, the wine is the #1 Unoaked Chardonnay at $10.00 and above in the U.S.*
"Unoaked Chardonnay is who we are," says Francine (Frankie) Williams, President of Toad Hollow Vineyards, who founded the winery with her husband, Todd Williams and their good friend, Rodney Strong. "Though a lot of producers have jumped on the band wagon in recent years, we were truly ahead of the curve when it came to this style of Chardonnay; it's always been at the core of our identity."
In recent years, unoaked Chardonnay has become a significant enough wine category to warrant tracking apart from the overall Chardonnay category. According to AC Nielsen, sales of unoaked Chardonnay grew 48% in the last year (ending 11.10.12) compared to 2.2% for Chardonnay generally. Furthermore, studies show that Millennials and younger drinkers demonstrate more interest in unoaked Chardonnay than older consumers, and in side-by-side comparisons half or more of consumers prefer unoaked to oaked versions of Chardonnay.**
"Even twenty years ago people were saying 'enough is enough' with the big, oaky style of Chardonnay that was so popular back then," says Williams, who added that inspiration for Toad Hollow's Unoaked Chardonnay came from the crisper, more fruit-driven styles that Rodney Strong encountered in France. "We opened the door to a world of Chardonnay that actually tasted like the varietal, and we've had a loyal following ever since."
In celebration of its 20 years of making Unoaked Chardonnay, Toad Hollow Vineyards is partnering with the Arbor Day Foundation in a "Free the Tree" promotion, making a donation equal to one tree planted for every case sold during a three-month period in participating markets. "Free the Tree" will be promoted through an array of point of sale material, with all paper printed on Forestry Stewardship Council certified sustainable products. Funds raised during the promotional period will be directed to Arbor Day Foundation programs in California, Florida, Georgia, Michigan and Texas or to the Foundation's General Fund. Founded in 1972, the Arbor Day Foundation has grown to become the largest nonprofit membership organization dedicated to planting trees, with over one million members, supporters, and valued partners.
"We've always had an inside joke about the Unoaked Chardonnay that 'no trees were harmed in the making of this wine,'" said Williams. "The Arbor Day Foundation is a terrific organization and a natural partner for us."
About Toad Hollow Vineyards
Toad Hollow Vineyards began as a collaboration between two old friends, Todd Williams (Dr. Toad) and Rodney Strong (Dancing Badger), who were dedicated to crafting fine wines at affordable prices. Toad Hollow's flagship wine, the Unoaked Chardonnay "Francine's Selection," named in honor of the lovely "Mrs. Toad," (aka Frankie Williams), was released in 1994, kick-starting the Unoaked Chardonnay revolution. Today, the winery's award-winning wines are sourced from Mendocino County, Russian River Valley, Carneros, and California. With beautifully-illustrated labels sporting the irrepressible "Mr. Toad," Toad Hollow wines are a tribute to Todd Williams' simple philosophy that "Drinking wine should be FUN!"

IRI Symphony, Chardonnay $10.00 and above, Total US FD/DG, 52 wks ending 02.24.13
**Vineyard and Winery Management, Mar-Apr, 2013
AC Nielsen, 52 weeks ending 11.10.12
Wine Opinions Core Track III Report 2006
Contact:
V2 Wine Group:
Katy Leese, General Manager
707-938-7624 x 16 (o)
katy(at)V2winegroup(dot)com