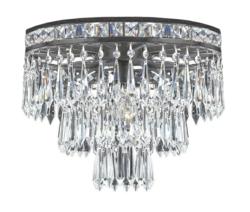 Our retail partners provide invaluable input concerning consumer preferences, which are reflected in the collection extensions featured in our Dallas showroom
(PRWEB) May 15, 2013
Building on the success of some of its most popular lighting collections, Crystorama will debut new hand-blown glass chandeliers as well as a number of other line extensions during the Dallas International Lighting Market on June 20-23. The company will also exhibit its expansive content library of photography and video that retailers can use to build robust social media, e-blasts and website communications programs.
"Our retail partners provide invaluable input concerning consumer preferences, which are reflected in the collection extensions featured in our Dallas showroom," said Brad Kleinberg, president of the Westbury, N.Y.-based lighting manufacturer. "The goal is to provide lighting products that offer a fashion-forward look, yet remain at an affordable price point for the majority of consumers."
Leading collection extensions for the Dallas Market is Crystorama's hand-blown glass Harper Collection, which is adding a clear option to existing colors of Ice Blue and Cognac. The new color will be offered in 5-light, 6-light, sconce and pendant fixtures, which will expand the chandelier's potential use in a greater variety of settings.
"Retailers tell us that Harper is extremely popular for consumers who want a contemporary look, but the existing colors don't always work with every décor," Kleinberg said. "Because of its versatility and transitional design, the clear option is going to make the Harper collection even stronger with broader appeal."
Crystorama's Mercer Collection, which offers a beautiful waterfall look with crystal accents, is being expanded with the addition of a ceiling mount fixture offered in Olde Silver and English Bronze finishes. Reminiscent of classic Hollywood glamour, designer Brian Patrick Flynn selected the Mercer chandelier for the 2012 California Home & Design Small Space Big Style Showhouse.
For consumers on a budget, Crystorama is extending its Eva Collection with an addition that has all of the aesthetic appeal of this popular offering, but substituting wooden beads for rock crystals for a lower price point. The line continues its distinctive design of an empire basket shape.
"Our ability to work with a variety of materials opens up many opportunities for us to create affordable luxury, as evidenced by the extension of the Eva Collection," Kleinberg said.
In addition to the product extensions featured in its showroom, Crystorama is also emphasizing the creative content and marketing materials it can make available to retailers for social media, websites, e-blasts and in-store merchandising. These materials include lifestyle photography, design inspirations and recently completed videos. This content is designed to help local showrooms further establish themselves as lighting experts.
"There are so many new ways of reaching out to potential customers through digital content and social media, but the challenge is to keep content fresh and inspiring," Kleinberg said. "We have invested in materials that our retailers can easily adapt to their own custom marketing programs to make their marketing programs much more effective."
The Crystorama showroom is located in the Dallas Market Center, 2100 Stemmons Freeway, Suite 3503, Dallas, Texas. For more information, contact info(at)crystorama(dot)com.
Editor's Note
Crystorama will host a chocolate happy hour for customers and the news media in its showroom in the Dallas Market Center, Suite 3503, on Thursday, June 20, from 4 p.m. - 6 p.m. There will be photo opportunities for the announcement of the Crystorama Retailer of the Year and the grand prize winner of the Showroom Stars contest. We look forward to seeing you for this exciting event.
About Crystorama
For more than 50 years, Crystorama has been a leader in the lighting industry, recognized for distinctive lighting creations that are exceptional in quality, design and craftsmanship. Drawing upon its depth of knowledge and expertise and inspired by fashion and art, Crystorama continues to innovate with modern shapes, materials and colors.
Crystorama chandeliers are featured in such prestigious institutions as the U.S. Supreme Court, Constitution Hall and the Palace Theatre, as well as hotels, resorts and homes that range from urban lofts and country estates to suburban neighborhoods. The family owned business is headquartered in Westbury, N.Y., and serves retailers and contract distributors nationwide. On the web at http://www.crystorama.com.