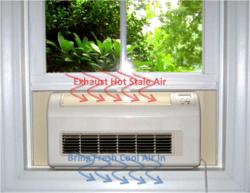 Mother Nature provides the cool, fresh air. Eco Breeze provides the smart technology to know when to turn on and off automatically, so it's more effective, convenient, and easier than manually opening and closing windows.
Tucson, AZ (PRWEB) May 16, 2013
The American economy spends billions on energy efficiency, designing energy efficient products to reduce demand and greenhouse gases. New products have been introduced to reduce energy for most of the largest consumption categories. Lighting has seen efficiency gains of over 75 % with the transition from incandescent to LED bulbs. Air Conditioning, the largest residential consumer of electricity, has only experienced baby steps, using more efficient compressors, coils and motors to increase efficiency. The high cost of these upgrades has caused limited adoption in residential applications. While lighting energy consumption is expected to decrease 50% by 2030, air conditioning remains the largest residential consumer of electricity, consuming 316 Billion Kilowatt hours, the equivalent of 31.6 billion dollars or 8.5 billion gallons of gasoline. The time for a paradigm shift in residential air conditioning is now; with disruptive technology the spiraling air condition energy consumption can be reversed.
"Growing up in New York State we became masters of ventilation, opening windows at night to install box fans and closing the windows in the morning to seal up the house with the cool nighttime air, it was the only option we had," says George Wiese President of Nature's Cooling Solutions. Now there is a way to have the best of both solutions, a hybrid, to automatically substitute fresh air ventilation for a portion of the cooling needs whenever it is available and the comfort of air conditioning when it's needed. The savings are dramatic. Every hour of fresh air cooling would save greater than 90% over the cost of compressor cooling. Cooling down overnight to a set point below the compressor improves home comfort and eliminates or delays the need for compressor cooling later in the day. It's a hybrid using outside air for "free" fresh air cooling when available, and having compressor cooling when needed, giving you the best of both worlds. At an estimated savings of 35% of total cooling energy, intelligent fresh air cooling would save 11.4 billion dollars or 3.1 billion gallons of gasoline.
Eco Breeze
The solution is Eco Breeze. It doesn't seem quite right to call Eco Breeze a window fan -- it's so much more sophisticated than any other fan. That's because Eco Breeze keeps a continuous check on the temperature and humidity indoors and out — and determines when your home could benefit from the free cooler outside air. Eco Breeze monitors outdoor temperature and humidity and automatically switches to fresh air cooling when the evening temperature and humidity drop. Install the unit in a window, plug it in and it's ready to go. It's a huge energy-saver compared to air conditioning. Total cooling savings vary from 30% in the south to 70% in the northeast and west coasts. Nature's Cooling Solutions is now introducing its second generation Eco Breeze which includes enhanced air flow and display of environmental indicators at a reduced price, this makes Eco Breeze one of the quickest paybacks in the energy efficiency market. The best part is Mother Nature provides the cool, fresh air for free.
About Nature's Cooling Solutions®
Nature's Cooling Solutions develops and markets environmentally responsible products that provide comfort and reduce the need for air conditioning by utilizing fresh outside air. The company integrates technology and knowledge in new residential products. Cooling with fresh outside air is healthier and dramatically less expensive than cooling with air conditioning. With temperature swings daily of over 20°F or more fresh air cooling can be substituted for air conditioning for a large percentage of the cooling hours. Nature's Cooling Solutions is creating solutions for homeowners to take advantage of fresh air cooling and significantly decrease operating costs. Mother Nature provides the cool, fresh air; Eco Breeze provides the smart technology. The result is economical, healthy and environmentally friendly products that maximize comfort for minimum cost. Visit http://www.naturescoolingsolutions.com, email at info(at)naturescoolingsolutions(dot)com or call (877) 565-1457 for additional information.