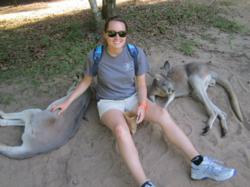 "I wanted to continue my involvement with a program that has a medical and research basis, unlike fat camps where campers return year after year," commented BalanceME Cape Cod Camp Director
Bourne, MA (PRWEB) May 15, 2013
BalanceME, a leading fitness and weight loss camp for ages 10 – 20 with a location in Cape Cod, Massachusetts proudly announces the hiring of Christine Johnson for her second summer as a Camp Director. Ms. Johnson returns to lead a proven, medically based weight loss approach in order to fight other fat camp approaches lacking a research basis.
"I'm excited to return to BalanceME summer weight loss camps as we had a very successful summer last year," commented Ms. Johnson, "I wanted to continue my involvement with a program that has a medical and research basis, unlike fat camps where campers return year after year."
BalanceME is led by staff with master degrees in exercise sciences, behavioral sciences, and nutrition fields. Ms. Johnson reflects this focus, as she has received her Masters of Science degree in Kinesiology as well as her B.S. Ed in Health and Physical Education from Georgia Southern University. She is currently pursuing her PhD at the University of Kentucky in Educational Science.
"Christine is an exceptional budding leader in the health industry and we're fortunate to have her leadership again this summer," commented John Gordon, CEO of BalanceME, "She represents everything fat camps lack—she is bright, experienced, and holds advanced degrees."
Ms. Johnson has experience as a middle school physical education teacher and worked for Statesboro Recreation Department and other weight loss camps. She will lead campers through the medical and research-based ME Plan fitness and weight loss health approach designed to help campers make lifelong changes to diet and activity.
In 2012, campers needing to lose weight lost an average of 4.25 lbs per week, a result unmatched by other weight loss camps or fat camps.
"We aren't a fat camp with poor facilities, a short-term focus, and a young unqualified staff," stated Ms. Johnson, "We found a great campus and fantastic staff to help lead what we believe will be the best weight loss camp in Massachusetts."
BalanceME Cape Cod is hosted on the campus of Massachusetts Maritime Academy. The Cape Cod camp opens June 23 and runs for 8 weeks with 2, 4, 6, and 8 week sessions. For additional information about enrolling in Cape Cod weight loss camp or for additional information about Christine Johnson or the rest of the expert staff, please visit http://www.BalanceME.com or contact John Gordon at (800) 975-0435.
###
BalanceME designed the ME Plan to Motivate & Educate on what medical research shows works for sustainable fitness, weight loss, and health success. Founded by professionals and guided by experts who have led some of the largest behavioral health, mental health, and treatment programs in the country, BalanceME is working to become the leader with a focus on improving an individual's overall health. BalanceME developed the BalanceME Health Score© to rate a person's overall medical, emotional, and fitness health status as well as show a person's progress towards health norms. BalanceME operates weight loss summer camps, local programs, and fitness programs for adults. For additional information please visit http://www.BalanceME.com or call (800) 975-0435.