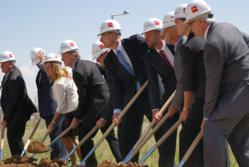 Denver, CO (PRWEB) May 16, 2013
A groundbreaking ceremony celebrating the start of construction for The Charles Schwab Corporation's new $200 million 467,000-square-foot corporate campus was held at the Lone Tree Arts Center on May 10th. The Arts Center is adjacent to Schwab's new 40-plus-acre site in the RidgeGate development. Schwab's Colorado campus is being built by Mortenson Construction and was designed by a team led by Fentress Architects. The new campus will consolidate and replace Schwab's three existing service center facilities located along the I-25 corridor and house approximately 1800 of Schwab's Denver-area employees.
When complete, the new campus will include two five-story office buildings, an amenity building, a two-story branch building, and a parking garage. Employees are expected to begin to move in to the new facilities in the third quarter of 2014, with final move-in completing in 2015.
"We're thrilled to deliver this major Front Range construction project for Charles Schwab," said Maja Rosenquist, Mortenson's vice president and general manager. "Both of our companies have a deep, longstanding commitment to Colorado," she added.
The ceremony was hosted by Brian McDonald, senior vice president for Charles Schwab & Co., Inc. and included remarks by Charles R. Schwab, founder and chairman of The Charles Schwab Corporation and Governor John Hickenlooper. Lone Tree Mayor Jim Gunning and Douglas County Commissioner Jill Repella also spoke at the event.
Schwab's first Colorado retail branch opened in 1978 and the new campus is designed to reflect its roots in the Colorado community and its commitment to Colorado. Located for solar orientation and optimal views of the local landscape, the project is targeting LEED Gold certification.
Other major companies that are part of the design and construction team include ME Engineers, Martin/Martin as civil engineer, Crosby Structural Engineering, RK Mechanical, Berg Electric, Rocky Mountain Prestress, Hudick and JR Butler.
About Mortenson Construction
Serving Colorado for more than 30 years, Mortenson Construction is a U.S.-based, family-owned construction company. Founded in 1954, and recognized as one of the nation's top builders, Mortenson provides a complete range of services, including planning, program management, preconstruction, general contracting, construction management, design-build, and turn-key development. Mortenson has offices in Denver, Minneapolis, Seattle, Milwaukee, Chicago, Phoenix and Portland with international operations in Canada and China.