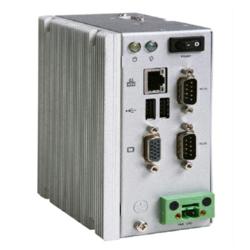 Chino, CA (PRWEB) May 16, 2013
Acnodes Corp. is pleased to launch the new fanless embedded system, FES2213. It utilizes Atom Z2600 Dual-core 1.6GHz processor with NM10 South Bridge chipset and includes one DDR3 SO-DIMM socket for a maximum of 4GB system memory. In a easy-to-carry and compact size of W66.5mm x H130mm x D100mm rugged aluminum housing, FES2213 provides a full set of I/O features including two RS-232 ports, one 100/1000T(X) Ethernet LAN port, two USB ports, VGA connector, and audio connector along with one SATA and one mini PCI-Express mSATA for high-capacity storage. It also enables flexible expansion by a half size mini PCI-E expansion slot.
FES2213 supports VGA display function with a maximum resolution of 1920 x 1200 (1080P). It also has a built-in Watchdog Timer that can wake the system from unexpected failures, which reduces the need for maintenance. The system accepts a 12V or 24V DC power input and offers outstanding computing performance with very low-power consumption of less than 10W during common usage. Besides, it can operate in wide range temperature environments from -4°F to +113°F (-20°C to +45°C). Featured for its compact size and DIN-rail mounting capability, FES2213 is easy to install and fit into various space-limited working environments. Additionally, FES2213 supports multiple operating systems including Windows XP/ 7 Embedded or Professional and Linux.
More information may be found at Acnodes' FES2213 product page.
Please visit Acnodes' fanless embedded computer product page for more fanless embedded computer products.
Our product line configurations are illustrated on our web site at Acnodes.com. However, most of the commercial and industrial computers are custom built to customer's exact requirements. Contact us via e-mail: info(at)acnodes(dot)com or telephone (1-909-597-7588) for more information.
About Acnodes
Acnodes manufactures, designs, and markets industrial computers and display solutions for diverse industries ranging from automation to military. We have an array of technological innovations in the area of rack mount servers, embedded computers, Panel PC's and rugged monitors that create simpler and more valuable products to the customers. We work closely with our clients to customize computer products to meet their required projects and challenges. Acnodes strives to explore new technologies to better improve life and work.
Company Information:
Name: Acnodes Corporation
Address: 14628 Central Ave.
City: Chino
State: CA
Zip: 91710
Country: US
Phone: 909.597.7588
Fax: 909.597.1939
http://www.acnodes.com