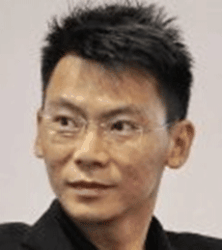 "You can either manage your money now, or let it manage your life later."
(PRWEB) May 17, 2013
Sean Seah, the renowned personal finance and investment specialist and bestselling author of Gone Fishing with Buffett and Winning the Money Game, has two new books due to hit shelves in mid-2013. Easy Money 101 and Financial Joy further solidify Seah's position as a top investment specialist, utilizing his knowledge and expertise to help readers gain a strong foothold in recovering and improving their own financial states.
Easy Money 101 uses a unique and forward-thinking approach: Each of the book's 101 pages are blank, proving to readers that there is no "easy money" solution; financial independence and success come through hard work and careful investment, and no get-rich-quick scheme will provide the financial freedom they may be looking for. Financial Joy provides readers with more of Seah's astute insight into the financial world, giving readers cues on how to best make their finances work for them.
Seah, at 31 years old, has been a featured speaker at several events, including the National Achiever Congress 2013, speaking alongside financial greats such as Donald Trump, Richard Kiyosaki, Tony Blair, and Tony Robbins. In addition to regularly speaking at conferences worldwide, Seah also speaks frequently at Securities Investor Association Singapore (SIAS). He is the founder of Cornerstone Cashflow LLC and Financial Joy Institute, and readers will greatly benefit from his financial savvy and investment skills. Financial Joy and Easy Money 101 will launch simultaneously, and readers all over the globe will find themselves once again gaining the tips and tricks of financial freedom from Mr. Seah.
Sean Seah
Sean Seah began his first business venture with less than $1,000 as his startup capital. Within a year, the turnover had increased a thousand fold, skyrocketing that initial $1,000 into more than one million dollars. He is the author of several books, Gone Fishing with Buffett, Winning the Money Game, Easy Money 101, and Financial Joy, which both hit shelves simultaneously in mid-2013.
For more information, please visit http://www.seanseahsg.com/.