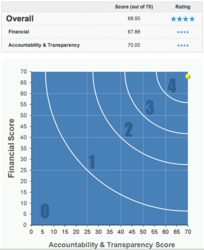 These 10 charities all operate on less than $2 million a year, but they all earn a four-star rating from Charity Navigator. We encourage you to learn more about them.
Lexington, MA (PRWEB) May 15, 2013
The Massachusetts-based FSH Society, Inc., has just been ranked among America's "Ten Charities Worth Watching" by one of the nation's leading charity watchdog organizations.
According to Charity Navigator, "Many of America's most effective charities are also household names. But some well-known charities are less effective than you'd think, while a number of lesser known charities are truly exceptional." Among the latter is the FSH Society, a charity founded in 1991 by two patients affected with facioscapulohumeral muscular dystrophy, or FSHD, a genetic disorder striking an estimated 1 in 7,500 to 14,000 people.
The FSH Society's inclusion in the highly prestigious list was announced on Charity Navigator's website. "These 10 charities all operate on less than $2 million a year, but they all earn a four-star rating from Charity Navigator," the website states. "We encourage you to learn more about them."
FSHD is named for the body areas that are typically affected: the face (facio-), shoulder blades (scapula-) and upper arms (humeral). The disease weakens muscles in these regions, making it difficult to blink or smile, or raise the arms overhead. FSHD can also lay siege to leg, hip and trunk muscles, leading to falls, broken bones and dependence on a scooter or wheelchair. Some patients endure hearing loss.
The FSH Society has received Charity Navigator's four-star rating for five years in a row, placing it among the top four percent of U.S. charity organizations. The rating indicates that the Society "adheres to good governance and other best practices that minimize the chance of unethical activities and consistently executes its mission in a fiscally responsible way," Ken Berger, President and CEO of Charity Navigator, wrote in a congratulatory letter addressed to FSH Society President and CEO Daniel Perez.
"Ninety percent of the members of our Board of Directors are personally affected by FSHD, so we care deeply about being accountable to the thousands of patients and families," said Perez. "We are delighted that we have been recognized for being highly efficient and effective. This exceptional designation from Charity Navigator demonstrates to the public that the Society is worthy of their trust."
Based on information provided in IRS Form 990, Charity Navigator analyzed FSH Society's performance in seven financial metrics: program expenses, administrative expenses, fundraising expenses, fundraising efficiency, primary revenue growth, program expenses growth, and working capital ratio. It also evaluated the organization in several accountability and transparency performance metrics, giving the Society an overall rating of 68.5 points out of a maximum score of 70.
Around 500,000 people worldwide have FSHD, and between one and two percent of the population carries a genetic trait that places future generations at risk of FSHD. Funding from the FSH Society paved the way for the recent discovery of the genetic mechanism of the disease.
There is now an intensive global effort to find treatments, and scientists say these breakthroughs in FSHD research could carry over into cancer, diabetes and other illnesses affecting hundreds of millions of people.
Despite the scientific waves that FSHD is making, many physicians remain unfamiliar with the disease, leaving thousands of patients undiagnosed and unaware that there are others who share their plight. In addition to investing in scientific research, the FSH Society offers a community of support, news and information for FSHD patients and families through its website at http://www.fshsociety.org.