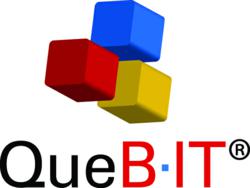 Scarsdale, NY (PRWEB) May 15, 2013
QueBIT Consulting, LLC will launch their FrameWORQ line of software products during the IBM VISION Conference, held at the JW Marriott in Orlando, Florida on May 19, 2013. QueBIT FrameWORQ is a comprehensive line of software products designed to improve and enhance clients' experience with IBM's industry leading Financial Performance Management software solution, Cognos TM1. QueBIT is a premier reseller and implementation partner of the IBM Business Analytics Platform, with over 130 clients using TM1 for a variety of Financial Analytics needs. QueBIT's extensive experience, successfully implementing TM1, and its close relationship with IBM's product development team has enabled the company to design a line of products that provide enhanced flexibility to the IBM Cognos TM1 platform.
QueBIT FrameWORQ is comprised of four software components:
WebWORQ is the enhanced and rebranded version of the popular OLAPObjects for TM1. WebWORQ (formerly OLAPObjects) provides complete flexibility for clients to design and deploy TM1 applications over the web. WebWORQ allows business users with no technical training to use their Excel skills to quickly deploy robust and flexible TM1 web Applications to satisfy a variety of Planning and Reporting requirements.
ReportWORQ provides TM1 clients with the ability to easily schedule and distribute any type of financial report developed in TM1. Without the need for IT assistance, clients can create TM1 reports and then use ReportWORQ to distribute the reports in a variety of formats to a pre-defined group of report recipients, using multiple delivery mechanisms.
ControlWORQ is the enhanced and rebranded version of the popular SCOPE for TM1. ControlWORQ (formerly SCOPE) enhances TM1's financial consolidation and financial reporting capabilities by providing a web or Excel client, with an auditable relational database, for entering and tracking journal entries and intercompany eliminations. ControlWORQ's intuitive interface and workflow component make it easy for clients to make journal entries and track intercompany eliminations, while keeping a complete audit trail of all changes to ensure Sarbanes-Oxley compliance.
BoostWORQ provides a set of primarily Excel-based productivity tools and utilities that are designed by and for IBM Cognos TM1 Perspectives users. BoostWORQ complements and integrates with existing TM1 interfaces, allowing TM1 users to (for example) audit TM1 structures for common errors, intelligently troubleshoot TM1 formula errors, and help quickly build dynamic TM1 reports in Excel using our "Expansions" technology.
Gary Quirke, President and CEO of QueBIT stated, "QueBIT has been delivering additional value to our TM1 clients with OLAPObjects and SCOPE for years. We have seen tremendous growth in the TM1 market over the past several years as a result of IBM's commitment to this segment, and we have invested considerably in our new FrameWORQ product line. FrameWORQ gives our clients even more flexibility and power on a TM1 platform which already provides clients with the most agile financial analytics platform on the market."
ABOUT QUEBIT
QueBIT is an IBM Premier Partner and one of the leading providers of Business Analytics Solutions in North America with hundreds of customers across many different industries, including Banking, Insurance, Retail, Consumer Packaged Goods, Manufacturing and Not for Profit. QueBIT's primary goal is to help solve customer business problems in the areas of financial reporting and consolidations, budgeting and forecasting, what if scenario planning, predictive modeling, profitability analysis and business intelligence.
QueBIT empowers companies to make better decisions faster through the adoption of a unique Implementation Methodology called CARE (Collaborative and Rapid Enablement). CARE maximizes the success of projects and empowers the end client to "own" both the solution and the technology at the end of the very first project. This achieves the lowest true cost of ownership for customers.
QueBIT enhances client's IBM Cognos TM1 implementations by offering a comprehensive suite of software products called QueBIT FrameWORQ. These products provide more flexibility with TM1 related to user interface, administration, report distribution, and financial consolidations.
To find out more information on how QueBIT can work with your organization to achieve the results that you desire, please contact us at 1800-QUEBIT1, email us at info(at)quebit(dot)com, or visit our website: http://www.quebit.com