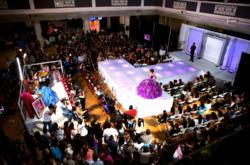 Los Angeles, CA (PRWEB) May 14, 2013
With an elite fashion show, various onsite party planning services, giveaways that include numerous Quinceanera dresses, and the official presentation of its 2013 Los Angeles Cover Girl, Quinceanera.com will make an encore appearance at the Shrine Expo Hall in Los Angeles on Sunday, May 19, 2013.
The free Quinceanera.com Expo and Fashion Show returns to the Los Angeles venue with a showcase that promises to satisfy the budgets and tastes of all attendees. This year, the Expo is honored to add to its program the Quinceañera gowns of elite fashion guru Mitzy, who has dressed A-list celebrities such as Mexican singer and actress Thalia, as well as Hollywood's leading ladies Angelina Jolie and Halle Berry. The famous designer will also participate in a meet and greet with his fans at the end of the fashion show.
The show will also feature returning sponsor Moda 2000 with its wide array of catalog dresses, as well as the over-the-top designs of emerging designer Raul Corona. This portion of the event will be kick off by the official presentation of fifteen-year-old Shamaria Martinez, Quinceanera.com Magazine's 2013 Los Angeles Cover Girl, who won the title by the public's majority vote.
In addition, the Los Angeles Quinceanera.com Expo and Fashion Show will include a unique entertainment slot to its bilingual program by blending entertainment and education. "La Leona," dynamic host of Univision Radio's "Buso con el Abuso" program, will present to the young attendees her song titled "Call Me A Dreamer" and share her immigrant success story to the parents in the audience.
The event will also integrate social media into its showcase by raffling various sponsor raffles, as well as Quinceanera dresses and an iPad, to its social media followers present at the event. Winners will be determined by the users that post the most on Instagram, Twitter and Quinceanera.com's Facebook wall using the its unique hash tag #XVexpo.
Following its signature platform of offering various party planning services under one roof, the Expo will offer photography services, decorations and limo rentals, as well as catering, hair, makeup, and all other Quince essentials.
El Clasificado, Curacao, Mitzy, Raul Corona, Moda 2000, and Goya are sponsoring the event. The next Expo is planned for June 30 at the Crowne Plaza Anaheim Resort.
ABOUT QUINCEANERA.COM:
Quinceanera.com is a multi-platform party-planning brand that integrates web, newsletters, a print Quinceanera supplement, mobile, and live events to reach bilingual Quinceaneras and their families. In 2013, the Quinceanera.com Expo and Fashion Show will return to San Fernando Valley, Bakersfield, Los Angeles, Orange County, Ontario, and San Diego.
ABOUT EL CLASIFICADO:
El Clasificado, the flagship publication of EC Hispanic Media, is a multi-media publication and advertising solutions company with advertising platforms in print, online and grassroots events. More than 1.5 million readers utilize the free Spanish-language publication every week. El Clasificado, a verified publication, is distributed in over 300 cities throughout Southern California, the Central Valley and recently in Yuma, Arizona and has a weekly circulation of 510,000. EC Hispanic media also owns elclasificado.com, which generates 15 million monthly page views from over 800,000 unique visitors across the United States.
CONTACT: For media interviews or b-roll of the event please contact Gabriela Alvarado, Public Relations Assistant, at 1-800-450-5852 or via e-mail at mediarelations(at)elclasificado(dot)com.
For marketing partnership opportunities, please contact Alicia Garcia de Angela, Director of Communications, at 1-888-204-4591 or via e-mail at agarcia(at)elclasificado(dot)com.
MEDIA RESOURCES: Quinceanera.com, Facebook, Instagram, Twitter, YouTube.