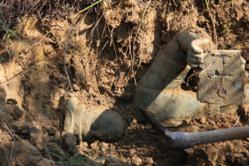 (PRWEB) May 14, 2013
The Udarnik's historical building, a residence for elite party members equipped with a cinema, once premiered Soviet classic films like Volga, Volga, Jolly Fellows, and Circus. On May 17th 2013, the Udarnik, owned by Shavla Breus, will open with Grisha Bruskin's Archeologist's Collection. The exhibition, organized by the Artchronika Cultural Foundation will feature a massive excavation installation as well as a video installation telling the story of the excavation through the usage of footage from Archival Magazine's documentary on the life and work of Grisha Bruskin.
The documentary, in production since 2010, includes locations around the world. The video installation uses footage of Bruskin's excavation of bronze sculptures and an archeological study performed by Marcello Miccio. The installation will be presented on three screens in the museum alongside Bruskin's recreation of the excavation site in Italy as installation art.
The artist, represented by Meyerovich Gallery in San Francisco and Marlborough Gallery in New York, has been developing this series for several years. One early inspiration for the massive installation at the Udarnik is a Cultural Archeology in the permanent collection of the State Russian Museum in St. Petersburg. Another example is Archeologist's Collection exhibited in 2004 at Marlborough Gallery composed with 49 small sculptures.
Archeologist's Collection recreates Bruskin's vision to unearth the fragments knowing that "man can never do what nature can do" the artist told Archival Magazine during filming. As the pit grew deeper throughout the excavation, more sacrifices of the age were reclaimed and the artist's fascination with nature intensified. The installation at the Udarnik embraces this ongoing process displayed inside its historic walls.
The museum will be open Tuesdays through Sundays from 11 am to 8 pm, and closed on Mondays. The regular ticket price is 200 rubbles, and the concessionary ticket price is 100 rubbles. The Udarnik is located on Serafimovich st., 2. For more information, please email info(at)archivalmagazine(dot)com.
Archival Magazine is a high definition video streaming publication that produces entertainment content for film, television, the web, and mobile devices. Using powerful cinematic approaches to storytelling, Archival Magazine presents visual and performing arts, literature, architecture, archeology, history, political science, economics, anthropology, travel, and health from past ages to current and coming ages. The stories featured by Archival Magazine demonstrate the gravity of art and age.