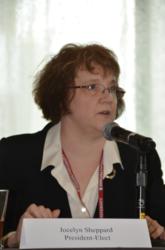 "We're pleased to contribute to the continuing education of information professionals at the SLA conference," says AIIP President Jocelyn Sheppard.
Baton Rouge, LA (PRWEB) May 15, 2013
The digital age is evolving at break-neck speed. What wasn't possible three weeks ago is suddenly commonplace; information that couldn't easily be acquired or analyzed before is now considered essential. In this increasingly complex era, how can independent information professionals acquire and master new tools and techniques in order to fulfill their clients' needs? Members of the Association of Independent Information Professionals (http://www.AIIP.org) will share some of their solutions at the aptly titled "The Future Is Now!" annual conference of the Special Libraries Association (SLA) being held June 9-11 at the San Diego Conference Center.
"We're pleased to contribute to the continuing education of information professionals at the SLA conference," says AIIP President Jocelyn Sheppard. "Our members are info pros who absolutely must stay ahead of the curve on a wide range of matters involving technology, research techniques, client management, information resources, and business development. Keeping current allows us to survive and thrive as independent business owners."
About the AIIP presenters
Two-time AIIP past president Mary Ellen Bates of Bates Information Services literally wrote the book on the independent information business (Building and Running a Successful Research Business, 2nd ed., 2010). In addition to her research services, Bates offers keynote speaking, presentations, and workshops to knowledge workers, librarians, and other groups. She also coaches new independent information professionals. She will present "Springer Searching the Mary Ellen Bates Way" at the June 9 and June 10 Lunch-and-Learns. On June 10, Bates will also help attendees enhance their business skills in her "Joyful Negotiating" presentation.
Scott Brown is the immediate past president of AIIP and an information specialist, researcher, and social media expert. His company, Social Information Group, helps clients improve their use of social networking tools for information sharing, marketing, and networking. On June 8, Brown will lead the "Social Media for the Info Pro" workshop where he will show participants how to combine traditional digital sources with social media tools such as LinkedIn, Twitter, Facebook, and blogs.
Rachel Bates Wilfahrt currently serves as president of the SLA Rocky Mountain Chapter and has been selected as a 2013 SLA Rising Star, an award that recognizes select SLA members who have worked as information professionals for less than five years and have demonstrated outstanding leadership skills and contributions to the association and to the information profession. As owner of Rachel Bates Wilfahrt, LLC, she provides research, synthesis, analysis, and presentation of information; information resource evaluation; and topic monitoring. On June 10, Wilfahrt and Scott Brown will present "Listening to Pharma Chatter: Real-World Topic Monitoring," which will include a discussion of free and subscription-based research tools.
About AIIP
The Association of Information Professionals (AIIP, http://www.AIIP.org) is the premier industry association for independent information professionals. The membership consists of more than 500 business owners from around the world whose firms provide research and consulting services across a wide variety of industries. Business research, competitive intelligence, market analysis, database development, training, and information management consulting are just a few of the areas in which AIIP members specialize. Some of the vertical industries AIIP members serve include scientific, medical, pharmaceutical, regulatory, information technology, education, financial services, manufacturing, nonprofits, and life sciences. A directory of members is available at: http://www.aiip.org/content/hire-info-pro.
Media Relations/Public Relations Contact: Jeff Mustard – cell: 954-801-8263; email:
Jeff(at)TheBambooAgency(dot)com; http://www.TheBambooAgency.com
For more information about the Association of Independent Professionals, contact AIIP
Headquarters, Baton Rouge, LA; (225)408-4400, email: office(at)aiip(dot)org.