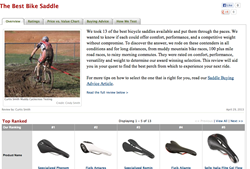 We wanted to know if each could offer comfort, performance, and a competitive weight without compromise.
Cheyenne, WY (PRWEB) May 31, 2013
OutdoorGearLab.com revealed today the results of the 2013 Editors' Choice awards for the Top Bike Saddles. The Editors chose the following winners after extensive field testing in the South Lake Tahoe, California and competitive road, cyclocross, and mountain bike races along the west coast. They took thirteen contenders and put them to head-to-head tests to figure out what was the best in the following categories: comfort, performance, versatility, durability, and weight. We think some of the most important aspects of a bike seat are that it is comfortable for long rides, and that it provides adequate power transfer for pedaling. Even though all the models reviewed were of high quality, we did find that some are better for certain applications than others. Each underwent extensive side by side tests to evaluate these key performance metrics.
The winners are:
Specialized Phenom Expert
Winner of the Editors' Choice Award for 2013. According to Gear Editor Curtis Smith, "It is the most comfortable while weighing only 248g. This performance XC race saddle clearly moved to the front in most scoring categories. It really transfers power, and a variety of position adjustments allows the rider to get into a good spot no matter the demands of the trail or road."
WTB Speed V winner of the Best Buy award for 2013. This award is given to a product that balances an extremely high score in our tests and a very reasonable price. According to Curtis Smith, "This is a great seat at tremendous value. Loved by almost all testers, it fits almost anyone - something very rare in our tests. It is our top choice for daily driver mountain bike or commuter."
Fizik Arione winner of the Top Pick award for 2013. This award is given to a product that excels at a specific application. Said Smith, "This saddle emphasizes power transfer. It got top marks for performance and is ideal for road, cyclocross, and mountain bike racing. Minimal padding, and a long, flat profile allows for multiple positions. Steer clear if comfort is your primary concern, or if you prefer a wide saddle."