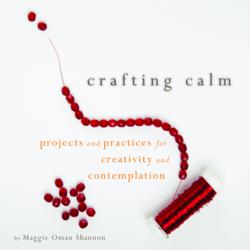 (PRWEB) May 15, 2013
According to interfaith minister and author Rev. Maggie Oman Shannon, when people immerse themselves in creative acts, they can quiet the noises around them from this "wild and wired world," and truly calm themselves. More than ever, everyone from high school students to working professionals face an onslaught of increasing amounts of stress on a daily basis. In her new book, Crafting Calm, Maggie Oman Shannon provides practices for calming the mind and de-stressing. Psych Central featured three projects that people can make for themselves or others that are sure to quiet busy minds.
Crafting Calm:
Projects and Practices for Creativity and Contemplation
Maggie Oman Shannon
Craft the Way to Inner Peace
In this wild and wired world, it is increasingly difficult to truly relax and find stillness within. Maggie Oman Shannon's Crafting Calm is a DIY guide to peace of mind, offering an abundance of ways to achieve serenity and satisfaction by living the handmade life. Author Oman Shannon, the spiritual director of a Unity Church, explores crafts and creativity as a lifelong practice with enormous physical, emotional and spiritual benefits. And by knitting love and hope into every stitch, handicrafts help form new friendships and community. From making a desktop shrine or mini-Zen garden, to stringing intention beads and painting personal prayer flags, Crafting Calm is an essential tool for making mindfulness.
"Crafting Calm was a revelation to me! Over the years I have enjoyed many of the crafting activities highlighted in Maggie Oman Shannon's wonderful book. However, it was only after reading Crafting Calm that I understood the connection between creativity and the divine. Shannon's book helped me see that what I previously viewed as fun and satisfying, actually provides spiritual nourishment for my soul."
~ June Cotner, author of the bestselling Graces
Polly Campbell, author of Imperfect Spirituality, suggests taking a different approach to stress and using it as a method for success. She will be offering stress-management tips to move through what may seem like overwhelmingly stressful moments in the day later today, so be sure to check back into her website!
Imperfect Spirituality:
Extraordinary Enlightenment for Ordinary People
Polly Campbell
Enlightenment for the Rest of Us
Pulling a raisin out of a two-year-old's nose probably wasn't on Buddha's path to enlightenment, but it was an aha! moment for author Polly Campbell. In Imperfect Spirituality, Campbell shows how to integrate those everyday moments with traditional spiritual techniques to increase personal growth and well-being. Imperfect Spirituality is filled with practical tips and dozens of examples that will encourage people to amp up their optimism, let go of worry, and embrace their authentic selves to offer their true gifts to the world.