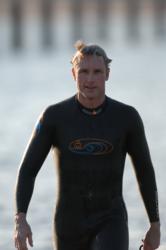 Chicago, IL (PRWEB) May 15, 2013
Only forty-four swimmers have ever completed the marathon swim series dubbed "The Triple Crown," one of the toughest series in the world. Nial Funchion, a 19-year veteran of the CPD will become the forty-fifth swimmer to go the distance, this time to benefit the non-for-profit organization, The Brotherhood For The Fallen.
The organization sends Chicago Police Officers around the Nation to stand humbly, in full dress uniform, alongside a fallen officer. "Literally overnight the family receives support from thousands of officers; it's as strong a spiritual connection as you can get from a Police Department." Funchion, who's duties have ranged from Presidential detail's to Marine Unit Dive/MERT instructor, got the idea to raise awareness for The Brotherhood For The Fallen after many of his good friends had been killed or injured in the line of duty. The final impetus was a paraplegic officer who, knowing of Nial's marathon swims, called Funchion his hero.
Resurfacing after an extended break, Funchion tested his mettle as a marathon swimmer with a successful crossing of the Strait of Gibraltar in late 2011. This was soon followed by a lengthy application process to circumnavigate the 28.5 miles around the island of Manhattan, NY. Funchion was one of 10 swimmers selected from a worldwide search to attempt the feat. Three months later he completed the swim. Earlier in his career, Funchion completed the English Channel, as the 'Fastest American Swimmer' of that particular year. These successes place Funchion within grips of acquiring the coveted and very rare 'Triple Crown' of marathon swimming.
When asked about his swims he quickly responds, 'It has nothing to do with swimming'. "I swam The English Channel to earn my right to coach human beings regardless of age. There is sacredness about the deck, it's about trust and needs to be free from hypocrisy, it is where lives evolve. If I'm telling another human being to do something where there is hesitancy, for whatever reason, I am in a sense telling them to go through the fire," says Funchion, "I need to be the guy on the other side of the doorway, reaching through. Swimming to 'other shores' earns me that right to coach, earns me my voice. It is the doorway".
Awaiting Funchion is now the final leg: crossing the 24 miles of shark-infested waters that stretch between Catalina Island and the California shoreline, beginning at midnight when the water is at its most calm. "The Triple Crown takes a lifetime. You take some hits, fall down and crawl sometimes. There is time spent rebuilding your life, healing on all levels, and searching. Every once in a while someone reaches back and pulls you along and takes a chance. Every time I grabbed hold, desperate to rebuild passion. The 'Triple Crown' is me, metaphorically, extending my reach back."
Follow the training cycles, attitude, thoughts and stories via http://www.beyondbreakwalls.org
To make a donation or learn more about the Brotherhood For The Fallen, please visit http://www.brotherhoodforthefallen.org