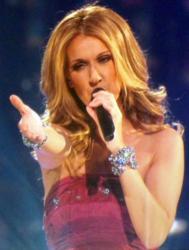 New York, NY (PRWEB) May 14, 2013
Celine Dion hails from Quebec, and she is the youngest of 14 children. She originally met her husband and manager, René Angélil, in 1980 when she was only 12 and he was 38 after she and her mom sent a demo tape of a song to him. In 1987, they became romantically involved and she later married René in 1994. Many people criticized this marriage thinking that Rene was far too old for Celine; however, this marriage worked out and he absolutely worships her. They are the parents of three boys, named René, Eddy and Nelson.
In the 1980s, she had already captured International acceptance when she walked away with first place in both the 1982 Yamaha World Popular Song Festival and the 1988 Eurovision Song Contest. During the early part of the '80s decade, she did an abundance of French language albums and signed with the Canadian branch of CBS records in 1986. René Angélil believed in Celine early on and mortgaged his house to bankroll her first album done in English. In 1990, she released her first English album, "Unison" which made her an instant star and a household name in all English speaking countries. After Celine had become a renowned worldwide name in music, she signed with Epic Records and and distributed many more English and French albums.
Tragedy struck Celine and her husband when he was diagnosed with cancer in 1999. She decided to take time off to care for him and hopefully start a family. After many miscarriages and hardships, she and her husband are now parents of three boys. Celine's boys are everything to her and she takes them along with her on tour. At age 44, Celine Dion is still one of the most popular and beloved artists in the World. She has a very gracious and kind personality plus she has the voice of an angel.
Celine Dion holds the title of being the highest selling Canadian singing artist of all time and she is the second highest selling female artist in the United States. She is known for her incredibly powerful vocals and fabulous personality. She has been a mainstay at Caesars Palace Colosseum in Las Vegas for many years with her contract being extended several times. In 2004, she received the Chopard Diamond Award for selling more than 175 million albums around the world. This distinction made her the biggest selling female recording artist in the record books. Fast forward to 2012, Celine Dion has now sold in excess of 200 million albums around the world.
Cheap Concert Tickets has great prices on Celine Dion Tickets, Pink Tickets and Justin Bieber tickets.