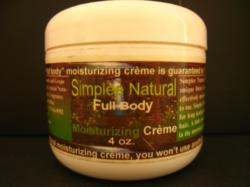 Simplee Natural Moisturizing Crème offers a great, low cost alternative for those who suffer from Eczema and Psoriasis as well as for dry face skin
Kernersville NC (PRWEB) May 14, 2013
Originally released as an all-natural, super-moisturizing face cream, more and more testimonials are coming in from users of Simplee Natural Moisturizing Crème™ reporting relief from the painful and embarrassing conditions of Eczema and Psoriasis.
Simplee Natural Moisturizing Crème™ formulator, Raymond King, reports phone calls and emails coming in weekly from consumers who originally purchased the product because they wanted to replace their previous moisturizing lotions and face moisturizers with an all-natural product, only to discover that either they, or a member of their family, found that their Eczema or Psoriasis was vanishing when Simplee Natural Moisturizing Crème™ was applied.
"As an all-natural, non-prescription formulation, Simplee Natural Moisturizing Crème™ offers a great, low cost alternative for those who suffer from Eczema and Psoriasis as well as for dry face skin and even 'ashy' skin, a special problem for people with darker skin tones," says King.
King continues:
"Good skin care starts with the best moisturizing cream and the all-natural Simplee Natural Moisturizing Crème™ unique blend of all-natural oils and emollients outperforms all other moisturizing creams we tested, even those costing many times more.
"The all-natural ingredients in this effective, natural moisturizer are actually nourishing the skin to keep the face looking young.
"We are very happy that our all-natural moisturizer is helping so many people with dry skin and these special skin problems to lead more normal, happy lives.
"The only complaints we've had have come form family members who have had to hide their Simplee Natural Moisturizing Crème™ from their husbands or other family members to keep it from disappearing!"
Simplee Natural Moisturizing Crème™ is available from Amazon.com.
About:
Lexis Global Marketing LLC (LGM) works with clients to develop and implement their marketing programs and strategies, domestically and internationally. LexisGlobalMarketing.com
Products Plus International (PPI), a division of LGM, is a distributor of all-natural personal care products to include Simplee Natural Moisturizing Crème, IPF-Pain Relief Lotion for muscle ache and arthritis pain relief, and Ultimate Desire for Men, the leading liquid, all-herbal ED formula. PPI markets all products in the USA through Amazon.com and publishes the website BestMoisturizingCream.com.
Contact:
David Amos
Lexis Global Marketing LLC.
Tel 1-336-817-7376
Email: damos(at)lexisglobalmarketing.com
Address: 931-B South Main St., Suite 154
Kernersville NC USA 27284
About:
Lexis Global News (LGN) features current items of interest in business, technology, manufacturing, health and wellness, education, fashion, travel and life style.
LGM is a division of Lexis Global Marketing LLC.
http://www.lexisglobalnews.com/
Contact: Robert Allen
Lexis Global News
Tel 1-336-775-8617
Email: featurerseditor@lexisglobalnews.com
Address: 931-B South Main St., Suite 154
Kernersville NC USA 27284