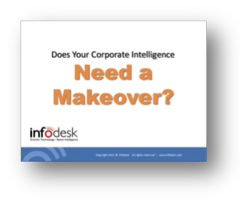 Does your corporate intelligence need a makeover?
Tarrytown, NY (PRWEB) May 31, 2013
InfoDesk has streamlined its InfoWatch solution to offer off-the-shelf, corporate news and competitor intelligence dashboards that can deploy in a matter of weeks. The newly redesigned InfoWatch Dashboard features custom-branded template designs that offer a wide variety of "plug-and-play" content options including aggregated intelligence from both free and paid sources, top industry and competitor news, trade publications and newspapers, social media feeds, stock widgets and more. Watch the 1-minute video "Does your corporate intelligence need a makeover?"
"Until now, all of our corporate intelligence solutions have been customized, said Lynn Epstein, COO of InfoDesk. "Now, we've created a standardized dashboard that puts all of the current information companies want, all in one place."
One of the biggest problems organizations face when it comes to monitoring and sharing corporate news and competitive intelligence is that it's scattered, siloed and comes from an ever-growing variety of sources. Every day, millions of professionals spend hours cobbling together patchwork intelligence from emails, news and trade publications, Web sites, databases, social media apps, multimedia and more.
The new InfoWatch Dashboard puts all of an organization's most-used information resources in one place. Users can find all their industry and company news, trade publications, newspapers and press releases – all filtered just for them and all in one place. InfoWatch Dashboards also feature social media, competitor news, stock quotes and industry trends.
"We've streamlined our implementation process considerably by standardizing many of the content and display options," said Epstein. Thus, she added, InfoWatch Dashboards can still easily be tailored to meet an organization's information needs, "but now we can usually deploy a new dashboard in just a couple weeks."
The new dashboards also come with easy-to-use administrator tools that allow the information and communications professionals to edit their taxonomy on the fly, manage alerts and create and send email newsletters quickly and easily.
"Our new InfoWatch Dashboards not only help communications and information professionals do their jobs better," said Epstein. "These dashboards help everyone in the company keep up with the latest business news and information they need to succeed."
Watch the 1-minute video "Does your corporate intelligence need a makeover?" and start your makeover today. To learn more, please contact info(at)infodesk(dot)com or call 1.914.332.5940 or outside the US call +44 (0) 20.8350.3398.
About InfoDesk
InfoDesk (http://www.infodesk.com) specializes in information management solutions that help organizations integrate, deliver and share content resources more quickly, cost effectively and securely. For more than 13 years InfoDesk has helped some of the largest multinational corporations, top government agencies and media companies integrate, deliver and share large volumes of information more effectively. InfoDesk is based in Tarrytown, NY with offices in London and Washington DC.