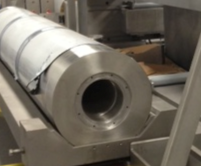 It is imperative that High Pressure Processing machines and solutions bear the 'mark'
White Pigeon, MI (PRWEB) May 23, 2013
All Natural Freshness specializes in end-to-end High Pressure Processing solutions. To ensure that every installation meets ASME U3 industry leading compliant certification standards ANF is proud to announce we are partnering with ASTAR Engineering, LLC. ASTAR Engineering, LLC has completed over 1,900 ASME Inspections in 15 countries and are viewed as leading industry experts in the regulations, and an industry leader in certifications completed.
"Since 1916, ASME has certified companies in the pressure equipment industry to certify that their products, services and quality system comply with the ASME Boiler and Pressure Vessel Code. With the rapid onset of High Pressure Pasteurization systems it has become essential for each of the vessels and associated plugs to be ASME Certified," states Adrian Staruszkiewicz, Senior Engineer & CEO, ASTAR Engineering, LLC.
Additionally, All Natural Freshness and ASTAR Engineering will provide a total machine inspection service and failure resolution to the companies who operate high pressure equipment. High Pressure Processing equipment operates at otherworldly pressures, measuring 5x that of the pressure at the bottom of the Mariana's Trench, the deepest known depth in the oceans. "Clearly HPP machine manufacturers have the utmost concern for safety in design and function" states Jon Jurhs Vice President of Business Development at All Natural Freshness. However, containing such highly pressurized material requires perfection in design, manufacturing, and maintenance. Otherwise, a cracked and damaged pressure vessel can result in leakage which includes contamination, fire, and explosion hazards, or rupture failure which can be much more catastrophic and cause considerable damage to life and property. [Source: OSHA ]
There will be incidents of failure and a few have already been documented, which raised the food manufacturing industry's concerns. Recently a failure event occurred at Universal Cold Storage who operates several Avure Technologies, wire-wound technology HPP machines. One of their machines suffered an explosion while processing meat at 87,000 pounds per square inch on June 11, 2012. "That thing really exploded it sounds like they were pretty lucky," said Lincoln Fire and Rescue Battalion Chief Derald Murrell. "We were very fortunate that no one was hurt past a few bumps and bruises," said company owner John Jacobson. ASTAR Engineering has decades of experience in high pressure environments and brings all the tools to assure that HPP Machines are safe and reliable and in the event a failure occurs, ASTAR can quickly root cause the problem and help implement a resolution and future prevention plan.
The ASME certification mark is recognized by the laws and regulation in all 50 states in the US, and all of the provinces of Canada, and the other over 100 countries around the world as a guidance of their national safety regulation. There are over 5800 companies in more than 70 countries presently certified by ASME. The ASME Code Symbol is legally required, and provides users with a high level of confidence that the stamped units comply with established safety standards.
Division 3 (U3) requirements are suitable to pressure vessels running at either internal or external pressures extensively above 10,000 psi. It does not state the maximum pressure limit for either Section VIII, Divisions 1 or 2, nor minimum pressure limits for this Division. High Pressure Processing vessels operate up to 87,000 psi.
All Natural Freshness' goal is to bring HPP to the masses by providing solutions that allow companies to have "the lowest cost per pound with the fewest touches possible." To make that possible ANF has developed a solution that offers customer specific levels of automation versus manual operation and, the key to the whole puzzle, a stackable, moveable, shipping ready buffering system. "We are thrilled to announce another integral additional to our end-to-end solution, ASME U3 certification," Ludwick states.