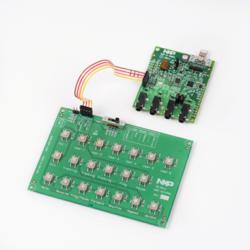 Eindhoven, Netherlands and San Jose, California (PRWEB) May 15, 2013
NXP Semiconductors N.V. (NASDAQ: NXPI) today introduced the MFA100 digital audio streaming device – the industry's first application-specific standard product (ASSP) for MFi accessories (Made for iPod®, iPhone® and iPad®) using Lightning™ connectors. A development kit featuring the MFA100 – an IC designed specifically for digital auto streaming applications – is now available via the Avnet MFi Procurement website for $59.00. With the MFA100 development kit, MFi licensees can quickly design audio streaming accessories such as audio docks, headphones and FM modulators using the compact 8-pin Lightning connector, which replaces the previous 30-pin connector.
The MFA100 device handles USB to I2S audio streaming; battery charging of iPod, iPhone and iPad; and up to 14 remote control button functions.
"Lightning connectors offer a significant improvement over the previous generation, both in terms of size and flexibility. The MFA100 digital audio streaming development kit enables audio accessory designers to quickly incorporate Lightning connectors into their products, taking advantage of NXP's expertise in both interface and mobile audio technology," said Dave French, executive vice president of R&D and general manager, Portable and Computing business unit, NXP Semiconductors. "We are committed to delivering reliable, high-quality solutions to MFi developers and manufacturers."
The MFA100 is the first NXP device specifically designed for MFi end products, with additional devices planned for release before the end of the year.
Links

About NXP Semiconductors
NXP Semiconductors N.V. (NASDAQ: NXPI) provides High Performance Mixed Signal and Standard Product solutions that leverage its leading RF, Analog, Power Management, Interface, Security and Digital Processing expertise. These innovations are used in a wide range of automotive, identification, wireless infrastructure, lighting, industrial, mobile, consumer and computing applications. A global semiconductor company with operations in more than 25 countries, NXP posted revenue of $4.36 billion in 2012. Additional information can be found by visiting http://www.nxp.com.
Note to editors: Apple, iPod, iPhone and iPad are trademarks of Apple Inc., registered in the U.S. and other countries. Lightning is a trademark of Apple Inc. All other trademarks are property of their respective owners.
Forward-looking Statements
This document includes forward-looking statements which include statements regarding NXP's business strategy, financial condition, results of operations and market data, as well as other statements that are not historical facts. By their nature, forward-looking statements are subject to numerous factors, risks and uncertainties that could cause actual outcomes and results to be materially different from those projected. Readers are cautioned not to place undue reliance on these forward-looking statements. Except for any ongoing obligation to disclose material information as required by the United States federal securities laws, NXP does not have any intention or obligation to publicly update or revise any forward-looking statements after NXP distributes this document, whether to reflect any future events or circumstances or otherwise. For a discussion of potential risks and uncertainties, please refer to the risk factors listed in NXP's SEC filings. Copies of NXP's SEC filings are available from the SEC website, http://www.sec.gov.