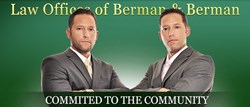 New Miami Truck Accident Attorneys, the Berman Law Group
Miami, Florida (PRWEB) May 15, 2013
The Berman Law Group are committed Florida personal injury lawyers and are proud to announce that they are now serving Miami for truck wrecks. They now provide attorney services for all eligible truck accident victims in the Miami, Florida, area.
The Berman Law Group is committed to the community and their clients. They seek justice for their clients who have been wrongfully injured. They can represent clients all over the state of Florida, but are now focusing in on the Miami area and are ready and able to help at a moment's notice.
In serving the Miami community as truck accident attorneys, they are able to help the following areas: Coral Gables, Cutler Bay, Doral, Miami Springs, Palmetto Bay, Pinecrest, South Miami, Sweetwater, Virginia Gardens, West Miami, Brickell, Liberty Square, Tamiami, Coconut Grove, Ludlam, Lindgren, Gladeview, West Little River, Bay Heights, and Three Lakes.
If anyone has been injured in a truck accident in Miami, Florida, and any of the other listed areas above, contact them at (305) 842-3160 or on their 800 number at 1-866-986-3529.
The Berman Law Firm specializes in the complexities of injury law, their expertise includes the various possible claims a client can file, as well as the compensation that a person or their loved one may be entitled to. The attorney's have the knowledge that allows them to deal with insurance companies. Although, there are a lot of hurdles in the process of successfully winning a personal injury claim, Berman and Berman stands by the side of each individual client. If anyone needs a qualified personal injury lawyer, give a call to the Berman Law Group at 1-877-529-8995. They are available 24 hours a day, seven days a week to assist potential clients with any questions they may have.
The Berman Law groups has the extensive knowledge to ensure that their clients' receive the best representation possible. Their attorneys excel in the field of personal injury, giving them the know how to ascertain the best possible outcome for their potential clients. The Law Group of Berman and Berman, continues to grow, now providing legal counsel for Sarasota, Florida, as well as, offices conveniently located through the entire state.