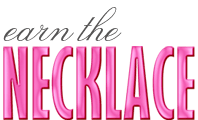 While the study is entirely fascinating, it falls short in a number of areas.
New York, NY (PRWEB) May 15, 2013
EarnTheNecklace.com, a revealing and engaging web site with articles written by women who exchange their stories and confessions about being in a relationship with a much older man, is releasing an expert statement on study results published online in April in the Review of Economics and Statistics that challenge the conventional wisdom regarding differently aged couples.
The study looked at 40 years of data from the U.S. Census bureau, from 1960 to 2000. The researchers examined the ages of people when they had their first marriages, completed educations, occupational wages, and earnings; and combined the data with additional surveys to measure cognitive skills and physical attractiveness. (Source: Mansour, H., and McKinnish, I.T., "Who Marries Differently-Aged Spouses? Education, Occupation, Earnings, Ability and Appearance," http://www.mitpressjournals.org/doi/abs/10.1162/REST_a_00377, posted online April 2, 2013.)
The researchers found that those married to younger or older mates, on average, have lower earnings, are less educated, have lower cognitive skills, and are less attractive than couples of similar ages. The study concluded that the idea of a rich older man taking care of a beautiful young woman is more of a myth.
"While the study is entirely fascinating, it falls short in a number of areas," says Bianca-Marie Coventry, EarnTheNecklace.com's Content Manager. "Despite the somewhat biased collection of statistics and numbers, it's a bit rich to cast a wide net over all relationships where an older man is with a much younger woman."
"There are a couple indicators needed to have a 'sugar daddy' relationship: age and income," Coventry adds. "For starters, the researchers didn't state what age range a younger or older spouse had to be to be labeled with the above-mentioned negative effects. According to the study, the greater the age difference, the higher the negative attributes; that's a pretty big blind spot. It would be interesting to see data attributed to sugar daddy relationships where the man is at least 20 years older than his partner."
"Second, the authors didn't specifically look at older men that were high-income earners; they combined all of the data and made a generalization," Coventry observes. "Since there are fewer people making more money, the study will obviously show that the majority of older men with younger women make less income. It would be a mistake to lump together all relationships where the man is older than his partner as a sugar daddy relationship—they aren't. It's just an example of an older man with a younger woman."
"Finally, I think a major flaw of the study is the years that were observed," Coventry concludes "The study ends in the year 2000; the dawn of the Internet age. It would be interesting to see research covering the years 2000 to 2013.The Internet has opened up a window of opportunity for wealthy older men to connect with fun, vibrant younger women. If anything, EarnTheNecklace.com has found that today's sugar daddies and sugar babes, especially the ones that we communicate with on our site, are attractive, well-educated, and smart."
To learn more about Earn the Necklace, visit the web site at http://www.EarnTheNecklace.com. The site wants to hear from women dating or married to men 20 years or more their senior! And if it's a story they publish, they'll pay $500.00, with an opportunity to write more.
About the Web Site: Earn The Necklace (EarnTheNecklace.com) is a web site featuring stories written by women in relationships with much older men, who want to help other women in the same situation. The site helps women in this position understand and navigate the potential ups, downs, joys, trials, and even unforeseen consequences, all based on real-life stories from women who have been in the same situation. Plus, the web site offers other celebrity gossip and juicy stories, all geared to those who are in a relationship with a much older man.